Keeping rain out of your home is highly topical at the moment.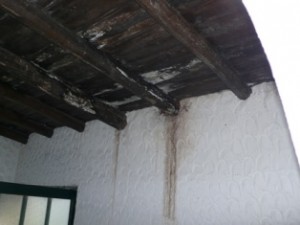 The monsoon like rains we are having are causing problem from flooding homes to even knocking the down. Keeping rain out of old stone homes in Portugal is a must as they can be demolished by the rain!
On a slightly less serious note but still terribly inconvenient is water from rain coming into your home from roof terraces, verandas adjoining buildings and broken roof tiles to name but a few causes.
Just to put this into perspective. We were recently asked to fix a roof leak on an older home. The problem was a suspected broken roof tile. In fact it was TEN broken roof tiles. The TV engineer and a painter had been walking on the roof tiles without protecting them and as a result the roof was leaking in ten places. They must have heard the tiles crack but ignored the problem and left it for the home owner to find later.
The rain water entered the roof and was lying on top of the ceiling in a pool. Once the pool was large enough it started to enter the bedroom through the ceiling light fitting and also into the kitchen via the electric wall socket.
Although it only took us 20 minutes to resolve the problem our client could have done with out the stress and cost of redecoration that was required.
If you have a problem with your home and want it fixed fast contact info@casteloconstruction.com