Most of us take a long time to choose our front doors.
Its a little like putting a nose on the drawing of a face. It sets the scene and gives character to your home.
Most churches historically have very large doors. Much larger than they need to be for any practical reason. These doors are made large to impress the people entering them. You will see the same in stately homes.
Most people coming to Portugal and building or renovating don't know that you do not have to choose from a few examples in a catalog or those on display in a DIY hypermarket.
No, in Portugal we have the highly skilled craftsmen who can make what you want.
In fact they can take a photograph and recreate an exact copy of the door that you like at a greatly reduced price to those found on the internet.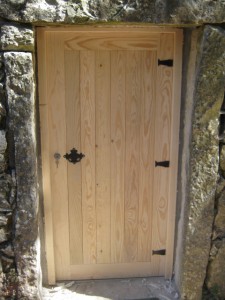 There are a few things to consider while choosing your perfect front door.
If it is going to be made of wood. Will it be hard or soft wood this is basically decided if you want to highlight the colour and grain of the timber.
If your just going to paint it then a softwood should be fine.
Then comes the design.
Hopefully you will have searched Pintrest or other photo sites on the internet to find the style and colour of door which will perfectly match your home.
I remember that we worked with a client a few years ago who wanted a "pillar box red" front door because he had one on a house that he lived in while in the Caribbean.
The nice thing about having a door made individually for you is that you can say I would like a copy of this door but instead of have these 3 panels I want 2.
Then just as a front door sets the personality of a home the style and size of the"door furniture" sets the personality of the door. Take for instance this rustic looking door set in a stone door frame it has cast iron decorative hinges and door knocker it would look very different if the furniture was stainless steel or if it had a letterbox slot in the middle of it.
Castelo Construction pride ourselves on delivering outstanding Carpentry to our clients. Just let us know what you want and we will do the rest
Email via the link below
casteloconstruction.com      or call 00351927168247