In Portugal many homes have render on the external walls. Most homes have either cracked render or external paint that is in bad condition and very often both.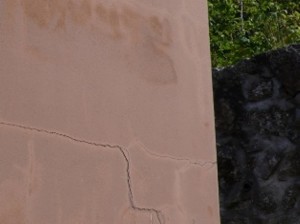 Take for example this wall. The render has been applied well and a high quality exterior paint was used but with no maintenance at all during the next 7 years some issues have developed.
The problem with rendered coatings on solid masonry walls is that they act like a raincoat or anorak.
This kind of waterproof covering is all well and good as long as it remains 100 per cent intact, but the slightest crack means that the rainwater gets in.
Once it gets in, it tends to remain trapped, and the buildings external walls will not easily dry out by evaporation.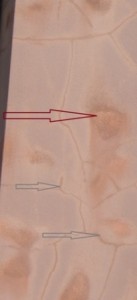 Apart from the cracks that you can see there are oval or round patches on the wall. These are because the rain has penetrated the virtually none existent wall paint and caused the lime in the render to come to the surface and wash out.
Cracked Render.
The cracks were once hairline cracks, caused by the sun heating up the render on the walls so that it expanded and cracked.and unfortunately these are the worst kind. A hairline crack will suck water in behind the render, where it will become trapped, and spread out over the internal wall surface, which is its easiest route to evaporation.
This usually causes damp inside the home. This type of damp is called penetrating damp.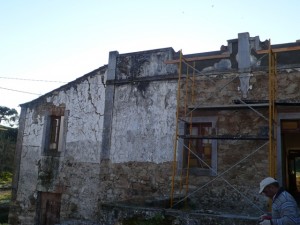 Over time the cracks get bigger and with the moisture behind then freezing even in a Portuguese winter. The piece of render will detach and fall off the wall. In this photograph we are removing the failed render from a stone built house in the Algarve
In extreme cases stone houses do fall down!
Before that happens ! contact info@casteloconstruction.com
see some of our projects at www.casteloconstruction.com