We had a client meeting today
Pleased to say that they are very happy with our work and wanted to talk about phase 3 of their property refurbishment.
It must be spring now (end of March) because they were in t-shirts (just flew in from the UK) and I was wearing several warm layers a t-shirt, thick shirt and a fleece jacket !
We were chatting and got on to the subject of swimming pools (likely to be phase 4 of the renovation and extension project). It occurred to me that there are a lot of things which we take for granted when discussing swimming pools which a person coming from colder climes may not have had experience of.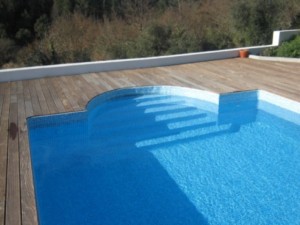 Here are just a few of the things to consider when thinking about a pool.
If you are intending to have an in-ground swimming pool or surface swimming pool then you should check that you have suitable land to place it.
Surface swimming pool. Will the land be able to support the weight of the water without sinking in. Is the ground free of sharp stones. Is it level? A sloping site will put a lot of stress on the sides of the pool.
Will you be able to drain the pool without flooding your neighbors garden. Large amounts of salty or chlorine laden water will not do anything for your neighbors vegetable crop or your relationship with them.
If the swimming pool is "in ground" is the ground suitable. Large slabs of rock as commonly found in Portugal may add another 2,000 euros to your construction costs.
Water treatment. You may want a more natural chlorine free water treatment such as saline/salt. Be aware that salt water treatments also have chlorine in it.
Chlorine. To maintain the proper level of chlorine in the water, shock (with chlorine granules) your pool once a week with a 3 to 5 times higher than normal dose of chlorine. Do not enter the pool until the chemical level is normalized.
Chlorine is broken down by the sun's ultraviolet rays. Using cyanuric acid to stabilize the chlorine in your pool at the beginning of the swim season will help you maximize the chlorine's effect.
Filters remove particles from pool water, but don't control bacteria or algae. Maintain a residual chlorine level of 1.0-3.0 ppm (parts per million) to kill bacteria and/or algae present in the water.
pH Level – The ideal pH for pool water is 7.5. A pH range of 7.4-7.6 is considered acceptable.
Water Quality is vital if you want a safe swimming environment for friends and family. Proper chemical usage is important for maintaining a healthy pool. Be sure to follow the chemical manufacturer's instructions closely regarding proper dosage for your size pool.
Keep the trees and shrubs around your pool trimmed back to 4 meters away from the water to minimize the amount of leaves and debris that end up in the pool.
Make sure that you have a safe electricity supply to operate your pool filter pumps. Electricity and water do not mix so don't be tempted to use extension cables.
If you would like to discuss the various types of swimming pool that you could have their relative costs and usage. Contact info@casteloconstruction.com
our advice is free and impartial