Whenever we plan to fit out a bathroom there are always lots of questions and choices to be made.
Take tiles for instance – Colour, size texture, tile direction, tile spacing, colour of grout and they are just the simple choices !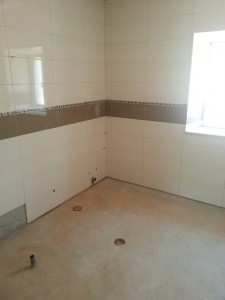 Bathroom questions seem to contribute to the "couple conflict" more than anything else.
I suppose it's hard for someone to explain to their partner exactly which colour tiles they want and how they intend the look of the new bathroom to be. I try and keep out of any discussion regarding tiles and white goods as you are only ever going to be wrong.
My advice would be to visit the tile showrooms in your home town, go there more than once and look at plenty of magazines.
If you have a good idea of what you are after or a photograph its much easier for our tile wholesalers to match what you want. Often with a large saving on what you would pay in the UK.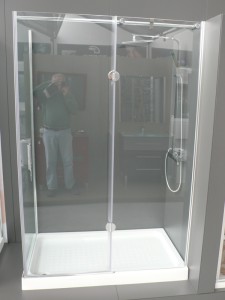 The other thing to bear in mind is that our professional tile layers don't use those ugly plastic corner trims. They cut the edges of the tiles with a diamond saw which produces a "miter" or in layman's terms two 45 degree edges which fit together providing a much better, high quality looking finish to your room.
A rather strange thing which happens in tile showrooms is people who are selecting tiles touch them or stroke them to see if they have a texture which is pleasing. I can't think of any other time other than in a tile showroom where I have stroked the wall tiles to see if I like them. Have you ?
its probable that the last person who says that they like your bathroom was in there stroking the tiles !
Here is the start of a long list of items for you to think about if you are planning a new bathroom or en-suite bathroom.
Mirror. Do you want one that is inlaid into the tiles or mounded on the tiles like a picture frame. Do you want lighting for the mirror.
Have you noticed in hotels that some mirrors steam up and some don't. This is because they have a heating element fixed behind them. Do you want this.
Wash basins, windows, the top of the WC tank and any cabinet tops will dictate the position of any borders. The bottom of the mirror should be above the border.
Bathroom equipment. Do you know what you want and if it will fit were you want it.
WC, will it have a visible or hidden tank. Will it be mounted on the floor or hung off the wall.
Do you want a soft close seat or a normal seat and cover.
Bidet, Will it be mounted on the floor or hung off the wall.
Taps, for the wash basin, bidet and shower.
will the shower unit have flexible hose connection from mixer to overhead shower unit or a fixed over head spray. Will it have a hand held shower head.
Plugs to bidet and wash basins. Do you want them Pop-up on a chain or operated by a push mechanism.
Shower tray, will it be solid porcelain, fiberglass, plastic or tiled
Shower cabinet, door, glass plastic.
Do you want isolator taps fitted to the wash basins, bidet and WC)
Towel rails and toilet paper holders, soap dishes, shower shelves.
Wall and Floor tiles, colour, texture, size, laying pattern, none slip
Borders horizontal or vertical.