Don't let anyone up on your roof!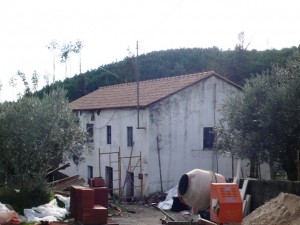 Remedial or new construction work involving going up on someone's roof has long been the territory of the con men and rogue traders.
I always think of the hugely successful international opera about Russian villagers and their universal longings — love, wealth, freedom and home "Fiddler on the roof" Its an opportunity to fiddle a home owner out of their money.
As most people don't have access the very long ladders or are afraid to go up on a roof it can be a very easy option to overcharge the home owner or charge for work that is not actually done or is over estimated. I have come across this situation many times in the UK.
Here in Portugal we don't tend to encounter the "Fiddlers on the roof" as the roofs here are less steep that the UK and are usually stronger so they are easier to access.
They do have one major recurring problem however.
Very rarely do people who go up on your roof remove the roof tiles temporarily so that they can work without breaking them or do they replace the tiles that they break.
Take for example the guys who installed my MEO satellite dish. One of them came and asked me if I had a tube of silicon sealer in my garage. Immediately I knew that they had broken some roof tiles and were going to stick them back together with the type of silicon sealer that you use in a bathroom. This type of sealer is TOTALLY USELESS for carrying out this type of roof repair and eventually the roof would leak and water would discolor our ceilings underneath. The MEO "engineer" would have been long gone.
What I did when they had gone is to go up on the roof and replace the two tiles near the chimney that they had cracked. Which brings me on too some very good and free advice.
If you are having a new roof or a new house built or if you have just bought an old house. Buy 10 roof tiles (exactly the same make and dimensions as your roof) Put them in the garden out of the way and just let them age over time. That way when someone breaks one or a tornado blows some tiles off your roof you can replace them without the new roof tiles standing out like fluff on a billiard table.
The picture below is of a repair we did to a roof that was leaking after someone adjusted the TV antenna. The roof tiles are about 100 years old, baked in the sun and very fragile. We had to take off and realign 6 square meters of tiles to make it watertight again we also replaced 80 tiles that were damaged.