Your house in Portugal needs a new roof what should you choose. What are the options and what issues affect your choice.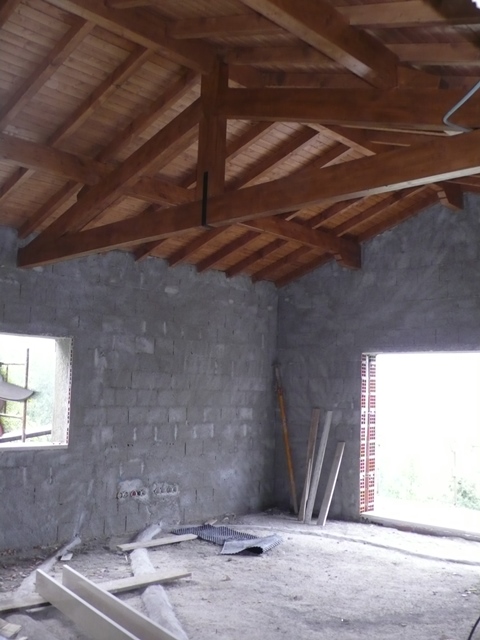 Very often our clients go for the same as they had before when choosing to replace their roof.
As though the roof it just a "hat" that keeps the rain out.
Without investigation the options first you may be missing out and not getting the best out of your homes new potential.
Take for example a stone built home with a flat plasterboard ceiling. Firstly make sure that you insulate the ceiling as plasterboard allows heat to pass through it very easily. Secondly use a shadow gap around the edge of ceiling as it gives a far better finish to the ceiling and will make it easier to decorate in the future.
What are the options and what issues affect your choice.
An exposed rafter roof like the one in the above photograph give the appearance of much more space and also a look of quality. The timber can be coloured with stain to any colour although the most popular colour is light oak.
Although the roof timbers are exposed the roof structure is fully insulated. Velux roof windows and ceiling fans can also be installed as required.
As the roof is going to be in place for another 100 years it is worth spending some time getting it right.
If you are going to have a concrete roof you can still have the timbered look if you want also timber joists suspended under a concrete ceiling can be very effective in creating that old world/rustic  look.