Most of our clients spend a lot of time choosing the style and materials that make up their front door.
Obviously it is one of the first things people encounter when they come to your home so it is important to create a good impression.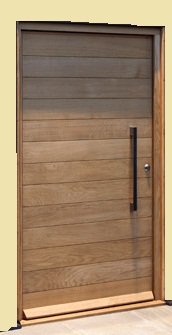 But where to start or clients are often baffled by the huge range to choose from.
50% + would go for a traditional wooden front door the rest are open to suggestions. Most have a fear of solid glass (like a shop door) from a security stand point.
Modern glass is both very strong and tough. Tougher than wood thickness for thickness.
You have the normal extruded aluminum windows and doors which are by far the favorite.
Then there is powder coated steel and glass front doors which are very secure and can be made in very large sizes if you really want to impress. I like them because they can have integral metal wrought iron work which adds to the attractiveness and also the security.
Front doors with a wood face front and back incorporating a steel sheet sandwiched inside provide the beauty of natural wood and the added security of steel. Be prepared to pay a lot for these doors.
Any door that you choose of course is only as strong as its lock/locks which in most cases is not very strong at all.
A typical front door lock can be drilled out in under ten minutes so consider fitting a toughened lock to your front door. Oh and don't leave the key under the mat.
Buy a key safe.   you can do it mail order at http://www.screwfix.com/c/ironmongery-security/key-safes-cabinets/cat810230
Castelo Construction work with clients all over Portugal why not contact us for a chat about your home.  kelvin@casteloconstruction.com we are happy to call you back.
Visit our website to see some of the projects that we have done in Portugal