Reading this blog will definitely save you money, frustration, inconvenience and stress.
And its FREE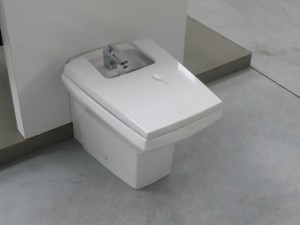 Before you start to renovate your house in Portugal consider this –
Coming from the more afluent areas of Europe we tend to treat sewerage as something that is best forgotten about and I suppose
a, it is not very pleasant and b, where you came from it just works.
Recently there have been a couple of things which brought home to me that we bring with us a blind faith in sewerage that is definitely not justified in Portugal.
Just this week we were with a client at his Portuguese house trying to find his septic tank. He had recently bought the property and wanted the drains from the new bathrooms connected up to the existing septic tank. Try as we might we couldn't find one which was a bit embarrassing for us.
A chat with the neighbors soon shed some light on our problem. There was no septic tank!
The gobsmacked client said that when he bought the house there was a working bathroom and a kitchen. Indeed there was but that did not guarantee there was a sewerage system.
He now has to pay for a septic tank and drainage to be installed.
To put this situation in context, household sewerage is a new-fangled thing here in rural Portugal certainly over the last 50 years. People who lived in the countryside (in those rustic homes that we foreigners like to buy) would have had a privy in the back garden or gone to the loo in the woods. Any house which had a cesspit would have had one built by the family that would have been built of the wrong materials or very often far too small. Most grey water (water from bathing and washing up) would have just been emptied on the land or into the street.
Because they did not put a lot of water into the tanks that they built they just about worked.
Very often we are called out by people carrying out DIY home refurbishments who have connected their new bathrooms, washing machines and kitchens up to the old cesspit and very soon after the smelly contents of the cesspit are coming up through the bath plug hole or shower.
There is no amount of un-blocker chemicals or drain rodding that will fix this. It's time to have a new tank installed and dig up your newly laid patios and garden.
Top Tip ! If you are buying a home in Portugal make it a condition of the sale that the previous owner has the sewerage tank emptied by the council and has the receipt as proof that it's done.
Another common problem that affects the sewerage systems here in Portugal is the poor quality materials used and the ignorance in the construction method. Very often lightweight hollow clay bricks are used resulting in the tank collapsing. Or a perfectly good tank is built and then they knock holes through the walls "to let the water out" In many cases this lets the ground water in!.
Resulting in the home owner having to pay for the system to be emptied several times a year. To put this in perspective In our local area we replace 3 to 4 flooding cesspits per year.
A sewerage system that is working properly is just as important as having a sound roof. Get it checked out before you start to refurbish. You will be glad you did.
If you are concerned about the state of your sewerage system or any aspect of your Portuguese home contact Castelo Construction on 00351    927168247 or Kelvi@casteloconstruction.com
We work throughout Portugal