Fitting Velux roof windows
When people talk about windows in roofs they often call them "Velux windows" although there are many other makes and designs available in Portugal they are not usually as good quality. Particularly in important areas such as seals.
A roof window is one area that we don't believe in cutting costs. Due to their position high on a roof you need a product that is long lasting, works reliably and doesn't let in rain.
Fitting Velux roof windows  – Among the host of options that you can order with your window there are THREE that we believe are essential.
1, Window to tile flashing. This seals the outside of the window and prevents the rain from entering your roof under the tiles. TOP TIP ! Make sure that you buy the correct flashing for the shape of roof tiles on your roof.
2, Roof windows let in plenty of light, that's what they are for. In Portugal were we have lots of sunshine this additional light also brings heat and a room lit by a roof window can also become very hot. What is needed is a sun blind so that the amount of light and heat can be easily controlled.
3, Integral fly screen. This is a must so that you can enjoy the window being open for long periods particularly in kitchens and bathrooms.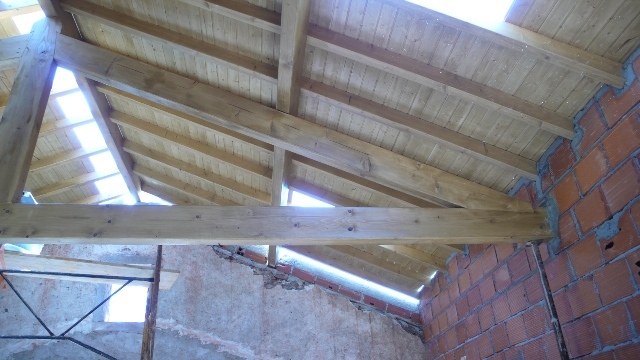 Fitting Velux roof windows . With some careful thought on the positioning of the window or windows in relation to the movement of the sun during the day you can cut down on the number of roof windows required and get more useful natural light from each window.