Reclamation, Recycling and Deconstruction in Portugal
I came across an article on the internet the other talking about "deconstruction" which intrigued me. This is basically where you re use materials that you remove or demolish in your building or refurbishment project and re use them back in the new construction or refurbishment. Its something that we do all the time.
For instance during one enlargement and refurbishment of an old stone house we re used all the stone demolished from the internal walls. The great thing about this is that the stone is usually the exact same colour as the rest of the house so that it matches in perfectly when used to build extensions or additions.
In effect we are unconsciously " Deconstructing" Reclamation, Recycling
On the other hand, roman style "half round" sun dried clay tiles are usually not so easy to re use because they are usually so brittle or have hairline cracks from years of hot and cold premature stress. Even when you take them off a roof very carefully they break. They also break during transport and break again when they are re installed. Its far better from a financial point of view to choose modern look alike tiles because they will look the same but are also frost proof and they don't continually break causing on going maintenance and replacement.
For advice on woodworm treatment contact woodworm@casteloconstruction.com
Altogether harder to deconstruct or recycle is pre used timber, beams, joists, flooring and doors. The number 1 culprit is wood worm or various types. Any timber that you re use that is not pre treated will have the live woodworm or their eggs inside it just waiting to come out and infest your nice new timber. A major hazard is the use of lead paints which will have to be safely removed before a door or window can be re used.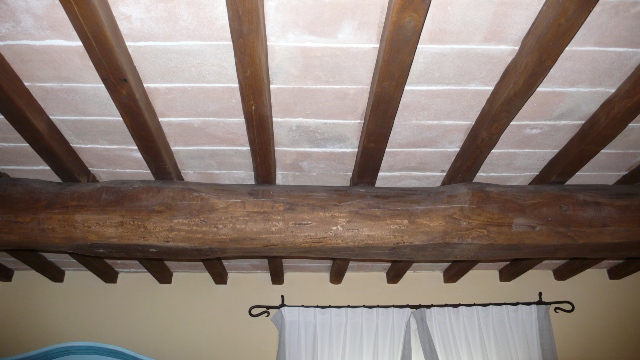 Here is a photograph of a very nice traditional chestnut ceiling with clay tile infil.
The owner spent an absolute fortune on having this ceiling installed in a new house. I think it looks fantastic. A real taste of Tuskany, trouble is the ceiling now has woodworm infestation !!! The beams were infected from old timber left untreated in the refurbishment. The owner now has an expensive and messy solution to this problem to pay for.
Here is the piece on Deconstruction