Sun Shades, Outside Dining Rooms, Alpendres, Pergolas & Porches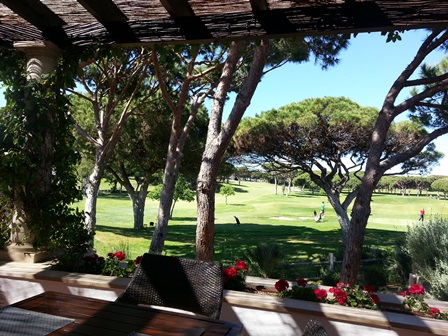 Sun Shades, Outside Dining Rooms, Alpendres, Pergolas & Porches Call them what you will – they all provide shade from the sun and often the rain. Most are built of timber with a tiled roof and some are cement render, stone or brick. Designed to suite your location, favorite position and mode of use they can be a very quick to build and attractive addition to your home. This Pergola is an ideal seating area, providing shade between the swimming pool and the house.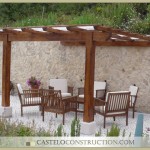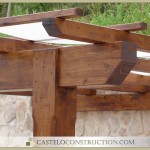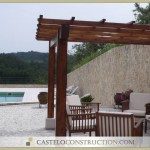 Constructed of kind dried, laminated timber it won't bend or twist in the summer sun. Protected by micro porous wood preservative and wood worm preventive it will last for years. The shade is provided by the top timbers and fiberglass mesh interwoven between them which provides a dappled shade to those beneath. Constructed solidly by skilled carpenters, delivered to site and erected in less than a day. Pergolas can also be used to make outside dining areas.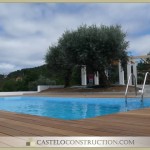 Why not add a touch of class to your pool area by locating your outside dining area in sight of the swimming pool.
If you like to eat or entertain outside all year round you could utilize a free standing Alpendre with built in barbecue. This one also has lighting and power. Built in a traditional style it links the house with the garden and is close enough to the pool to enable parents to watch children playing safely while lunch is being prepared.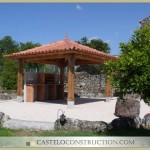 Many traditional details were added to give an attractive roof visible to the diners. The roof provides plenty of shade to the chef and there is a work top for food preparation.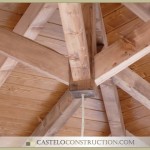 The sun in central Portugal can be very strong and those of us who have lived here for awhile understand the need for shade. In the spring and autumn there are also days when the weather is warm but there is the chance of light rain so having a pergola, sunshade or alpendre can increase your enjoyment of your garden and provide a dry relaxing space away from it all. Round pole design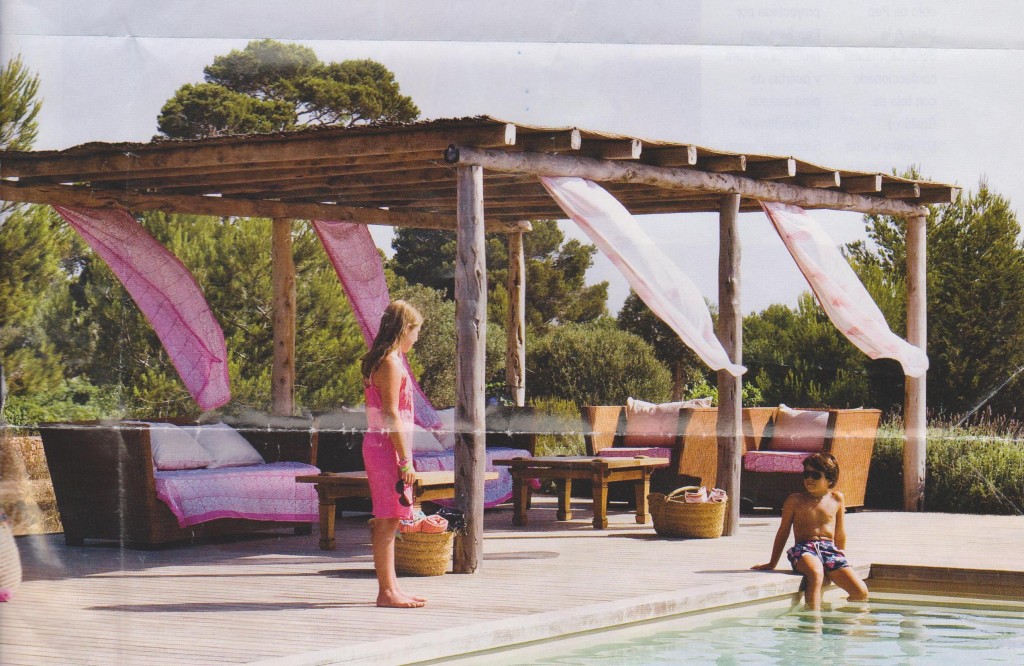 These round poles are pressure treated with preservative so will last for years they are very quick to build and attractive addition to your home. Choose your favorite position and mode of use. Then it's up to you to choose a design. This Pergola has shade material fitted. The small branches are held together with wire and make a dappled shade. You could use bamboo, rushes, nylon shade material, wooden laths, louvers or tiles. Another option for the winter is to locate a wood burning chiminea to provide back ground warmth www.castironchimineas.co.uk. There are the portable gas patio heaters much favored by British pubs if you prefer something instant. From ultra modern to rustic you can have what you want. Call us to discuss your ideas for a sun shade and we will provide a quote Tel 00351 967 922 513 E-mail casteloconstruction@gmail.com   Web site www.casteloconstruction.com  
Sun Shades, Outside Dining Rooms, Alpendres, Pergolas & Porches