How long
 How long does it take to remove the cement render from a house wall and re-point between the stones with lime mortar.
Many people ask is it possible to remove the cement render from a house wall and re-point between the stones with lime mortar for a DIY enthusiast.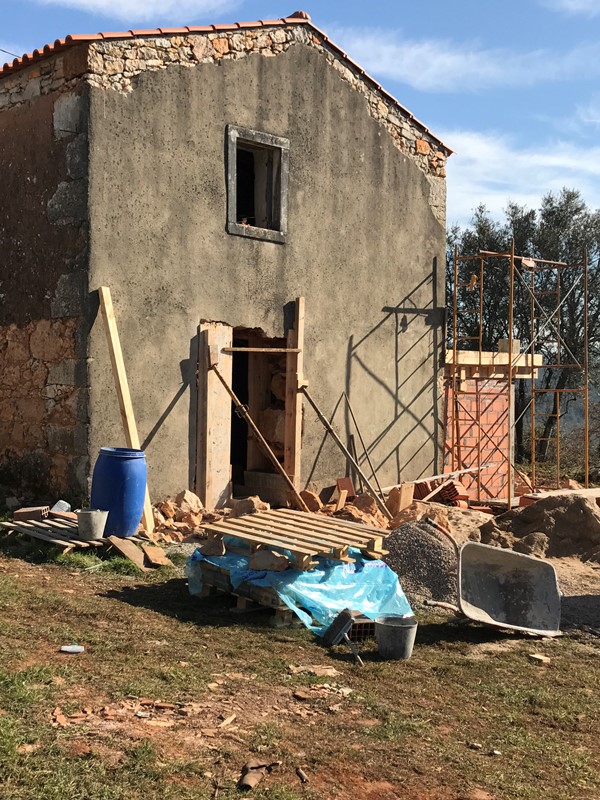 We are asked these questions a lot. So here are the answers.
It obviously depends on the size of the stone house wall. This one is eight meters wide by 6.5 meters high.
Looking at it from the DIY perspective. Do you have enough scaffolding available to carry out the work safely? Are you confident standing and working on scaffolding at this height?.
Do you have all the tools for the job.  Renting tools in Portugal is very difficult you will need a large SDS hammer drill, scaffolding, chipping hammer, Very high-pressure jet wash (not one that you wash your car with) and re-pointing equipment.
How long? It all depends upon how fit you are as to how long it will take. A reasonable estimate would be 3 times the man hours that it takes us.
Our guys are professionals and work on this type of thing day in day out so they don't need a lie down in the afternoon. Make no mistake you will hardly be able to raise your arms after the first day if you are doing this for the first time  I don't care how fit you think you are.
The repetitive and very dusty work really is hard. Dust in your eyes constantly and large amounts of fine dust to breath in.
Cleaned and ready for pointing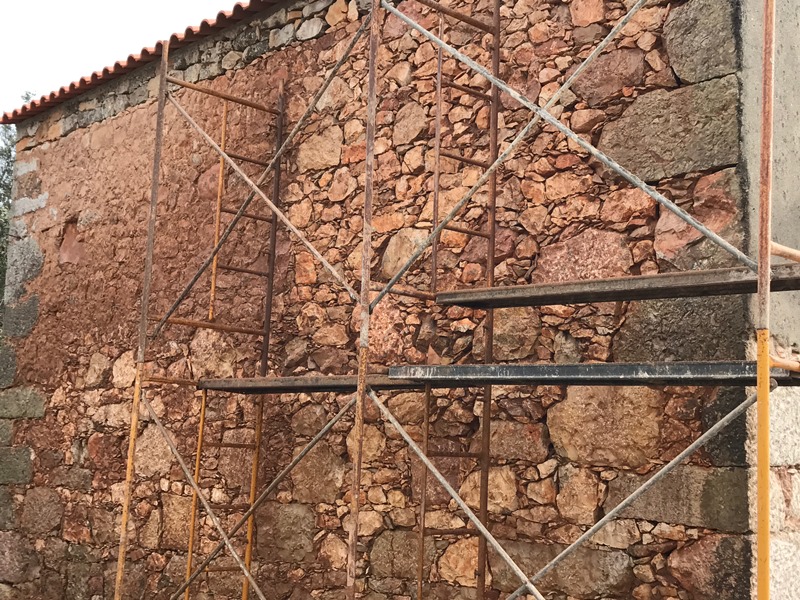 We had a team of two people working on this gable it took them two days to take off the old cement render which was on a south facing wall and baked on. The erecting of the scaffolding and high-pressure jet wash took another day. That's 6 man days or you could say a week's work for two people to get everything ready for pointing. There was also some stone to be replaced before the pointing.
If my reckoning is correct then it will take a DIYer 12 to 18 days of hard graft to make just the gable wall ready for pointing.
Much better to contact Castelo Construction  kelvin@casteloconstruction.com and have the work done for you at a reasonable price.
Castelo Construction Lda. Helps people like you to get the very best out of your new home in central Portugal.
Whether it is an old house that you want to refurbish or a new home which you want to construct. We help you to make the most of any property project with our professional, design, construction, project management and maintenance services.
Professionally managed services with full accountability ensure that you get what you want. On time and to budget. We work only with experienced and licensed tradesmen, architects and engineers to deliver exceptional results.