Doors through stone house walls
You have found the ideal property in Portugal; perhaps it's a traditional stone built house with lots of character but not much interior light.
It could be for instance that you want to gain access a nice area of the garden without going around the house or your plans for remodeling the interior space require a new entrance door through stone house walls.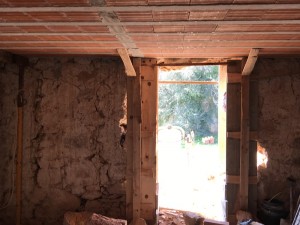 How do you do it, can it actually be done, what are the potential problems.
Castelo Construction has been carrying out this type of structural work for many years and with very good results. You can have a normal width door or even patio style doors knocked through your brick or stone walls even if they are over a meter thick.
How do you do it?
With a great deal of care and experience. This may sound obvious but taking a section out of the structural walls of a building can be very dangerous because of falling stones and debris. The work is usually done with three people.
Can it actually be done?
Because you are altering the structure of a home it is very important to make sure in advance that it can be achieved. It is not a case of trying a location and seeing what happens next. Our craftsmen understand the stresses and building methods that they have to deal with which requires years of experience.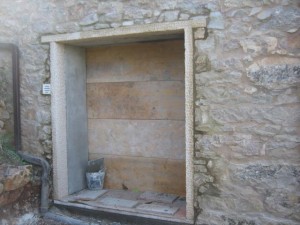 What are the potential problems?
If the stone walls of house have an uneven amount of stress they can buckle and collapse if a hole is cut in the side of them.
Remember the stones in old houses are only held together with mud. You can experience the effect of cutting a large hole in a house by cutting a hole in a cardboard box.  You will see that it immediately becomes unstable.
Which is why we use our many years of experience a great deal of care and tried a trusted techniques to support the house while the work is being carried out.
It is important to understand how dangerous this kind of work can be. In the UK last year  11% of workers suffered serious injury from falling objects.
"demolition sites pose particular dangers"
 https://www.injurylawyer.com/blog/construction-worker-deaths-and-demolition-hazards-prompt-osha-news-release/
 To discuss your building in Portugal contact info@casteloconstruction.com