Most people are confused about insulation in Portugal
There is plenty of property for sale in Portugal from ruins costing 10,000 Euros or as low as £7,300 to multi Million Euro palaces.
Most of them have one thing in common, no insulation at all.
Any properties even fairly new homes will not have adequate insulation by the standards of someone coming from Northern Europe. Here in Portugal it is warmer of course so we don't need the insulation you may think.
Your first winter will persuade you that your home should be insulated and quickly.
The day to night temperature change is so large that we often feel cold when sitting in our homes despite a log burner and electric fires.
There is only one way to understand what good insulation will do to the temperature in your home both winter and summer. All you have to do is visit someone in a new home and feel the difference in relative warmth and lack of humidity in the air. The humidity is another topic altogether!
This one simple experiment will convert you instantly into wanting your home better insulated.
How do you go about insulating an already built possibly ancient home.
Starting in the easy but very effective areas first.
The roof. If you have a loft space insulate the top of the ceiling joists with 40mm of roof mate extruded polyurethane and seal the edges against the walls with expanding foam.
If you want to go green and don't mind the additional weight and price hike you could always use sheets of cork at 60 mm thick (remember to seal the edges too)
If you have no insulation in the walls you could insulate the external walls or the internal walls with dry lining. Both are effective and depend upon the type of construction your home to give the best results.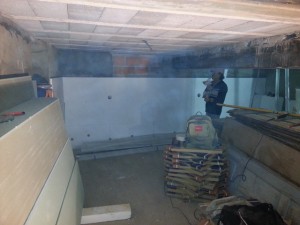 If for whatever reason you have to take up a floor in your home make sure that you insulate first before installing the new floor.
A final word on choosing insulation materials.
Whatever the insulation product is they rely upon trapped air. If you compress the insulation you are depleting the trapped air therefore you are reducing the effectiveness of the insulation.
Talk to the experts and make your home warm in the winter.
Castelo Construction has many projects under our belt and many happy/warm clients.Contact us for a chat to discuss the properties that you are interested in.
dampfixpt@gmail.com WWW.dampfixpt.net or call 00351 926935975