We have been known to bang on about how important it is to rid your home of damp and insulate properly.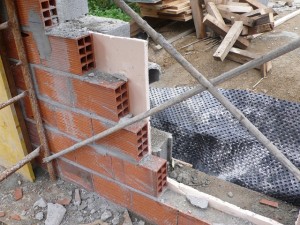 In the first year of being in Portugal  many people we meet feel that its much warmer here than where they come from so cannot see the need for making these preparations before redecorating or refurbishing their new home in Portugal.
Later as their first winter sets in they start to feel that dreaded damp and find it hard to keep the house warm chilling them to the bone.
A quick dash to the home electrical supply shop and some shiny new electric fires will do the job. Only to find that the electricity supply (common in most Portuguese homes) is not able to supply enough electricity without an upgrade. So you sit there heating one room at a time and start to reflect. Is living in Portugal going to be how you envisage from your home country ?
Being cold and damp is common reason why people go back to their country of origin it kind of sucks the energy and positiveness out of you.
All of this is avoidable with a little forethought after all a fundamental of living happily is to live in a warm dry home – So plan for it NOW.
Here is a comment from the excellent AngloInfo Lisbon site.
"Anyone interested in staying in our three bedroom 170 plus m2 house in a small hamlet near Tomar. No rent just bills, wood, gas, internet, water. As anyone who has lived in this area knows, houses can be quite chilly inside in the winter. We have gas central heating but it does not come cheap. From 90 euros a month to 90 euros a week if you like to be really warm all the time.
But no rent, so if anyone was looking for a house to rent the bills would be equal to the rental or much less."
Its all about how cold Portuguese homes are and the high cost of heating them and keeping them warm.
Talk to Castelo Construction about your damp proofing and insulation so that you can enjoy living in your home as you intended.
info@casteloconstruction.com   Tel   927168247