Beware a flat roof and flat roof problems.
The main problem with flat roofs in Portugal is not usually the type of material forming the weatherproof covering. The problems usually occur as a result of  how it was constructed and what materials were used to form the flat roof in the first place.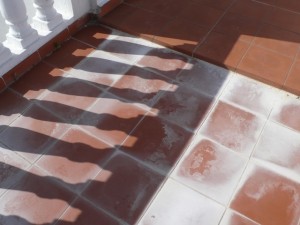 The second major problem for a flat roof of any type is abuse from people walking over it or placing ladders and scaffolding on it.
Many of us from the UK will have grown up in homes that had extensions which had flat roofs. Many of which were not insulated, leaked and had to be stripped and replaced fairly early in their lives.
Diagnosing why and where it leaked is always a difficult task and in fact most "roofers" will tell you that its best just to remove and replace it.
Most flat roofs in Portugal are built too flat and built with structural materials not able to support the weight correctly so they sag in the middle, allowing rainwater and ice to collect in the middle like a pond. This ponding can also occur under any tiles which were laid on top of the roof to form a roof terrace for example.
If you have ponding rain water – even a little standing water it will surely find its way through any pinprick imperfection into the interior of your home.
Now the almost impossible and expensive task of finding the leak point commences.
A "flat" roof should actually have a gradient of at least 1-in-80, to allow rainwater run-off.  If your roof is shallower than this or the deck is cracked then it doesn't matter what you cover it with — it will eventually leak again.
The answer is to have a strong solid roof deck. The membrane ideally a EPDM rubber roofing membrane which is led up the wall and capped in the correct way. There should be as few pipes, conduits, wires and skylights going through the EPDM roofing membrane as possible and they should be correctly sealed.
Until the EPDM rubber roofing membrane is covered in a method suitable for pedestrian traffic. KEEP EVERYONE off it or you are asking for trouble.
If you have flat roof problems we would love to help info@casteloconstruction.com
Check out our website casteloconstruction.com