Building and renovating houses in Portugal
Problems can be encountered when building and renovating a house in Portugal.
May I share my advice gained from many years of experience here?
There is an awful lot of illegal, unauthorized building here in Portugal.
From apartment blocks being built a story too high right down to windows being put into walls against planning rules. Not all are done by rouges and cowboy builders. There are people in planning departments who flout the regulations too.
Things are changing rapidly and more councils are applying tighter controls. If you are a foreigner I really don't think that it is worth trying to get away with it as you have no well-connected friends or family = INFLUENCE to help you.
In the end we all want to sell or transfer our property here and when that time comes we could do without the hassle and years of expensive frustration that can be inflicted on you for not conforming to a few simple rules.
Building and renovating in Portugal is straightforward any Architect can tell you if what you want to build/extend can be done on your land. Don't expect this advice to be free as you are talking to a professional.
Don't try and save money by asking a builder either. Anything that they tell you will have no validity.
Once you know what you can do and the limitations you can then make firm plans.
On the subject of firm plans please don't get hung up on the fine detail of a particular design until you know that you can actually build it there and that it will look right on your plot of land.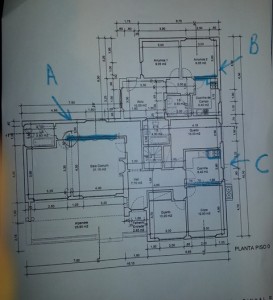 In the past we have had many home drawn plans, photocopy's of other people plans and even ripped off brochures from Spanish luxury housing developments.
Presented as exactly what the clients wanted to build despite the land they own being on a steep slope or not actually big enough to fit the house.
My favorite was a sketch of a couples "ideal home" they had spent so much time working on the room sizes they had forgot to include stairs and corridors to get from room to room.
The look on their faces when this was pointed out by the architect was a picture.
EVERY home or large refurbishment project changes during construction because of on-site factors but usually as people walk around the site they have new ideas and want to make changes. So will you and its only by good communication that you get what you want without it costing you a fortune. This is what a recent client said
"The work his guys do has been excellent. If I have wanted something changed, it has been changed with no problem. The quality and finish has never disappointed "
Contact info@casteloconstruction.com and we will call you to chat about your building project.
Check out our work yourself at casteloconstruction.com