We are often asked for before and after photographs of our work here are some of a swimming pool before and after.
Many clients make them into a memento to hang on the wall.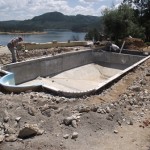 Of course when we are in the thick of it carrying out the work we often can't remember what the particular projects looked like before we started work.
Take this swimming pool for instance. The house had views to die for. Even our Portuguese craftsmen were impressed with the view.
Unfortunately this particular swimming pool had major problems which the new owner recognized and decided to put right.
With regard to the swimming pool the problem was that the base was not strong enough, the swimming pool structure was erected incorrectly and the pool had sunk into the ground so that the waterline was not parallel with the top edge of the pool. This is a fundamental error which is noticeable by everyone who comes into the garden.
Because of the above there was also a water leak which had washed away the support for the patio which caused it to sag and collapse. The previous owner obviously had not been able top get the cowboy builders back to fix it.
Take a look at what our swimming pool team did.
You can see them using a flexible hose full or water to make sure the level is perfect. This method has been used for hundreds of years. If the sunlight is too bright we often use a little red wine at each end of the tube so that we can see the level more clearly.
This pool is a liner pool.
Here you can see the steps involved in installing the liner.
Not something for DIY enthusiasts.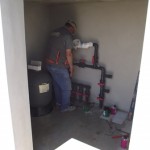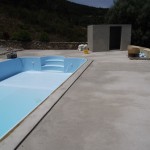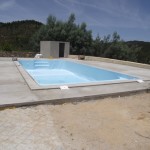 If you need a swimming pool repairing or a new one built
call the experts Castelo Construction