It is often very hard to make an informed decision about a property in Portugal.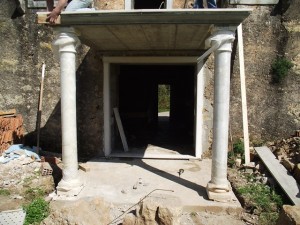 You will have thoroughly researched the area and probably have stayed locally. You both know what type of property will suit you but you still find yourselves in a common predicament which house to buy because you are probably are not used to the building methods and materials used here.
The last thing that you want to do is to find that your chosen property really is a can of worms.
So when you come across an attractive property in a great location what do you draw upon to help you make the decision to buy especially as the property may be showing signs of damp or structural cracks.
The two people whom you are probably accompanied to the property by are exactly the WRONG PEOPLE to offer any kind of advice on the condition of the property. Even if they were the most genuine people in the word they still have an ulterior motive. Its called CASH.
It would certainly pay to have a professional to look at the place and give you an informed opinion as to whether there are cosmetic or fundamental problem with this little palace that you have found.
A major advantage of this type of assessment is that you can then start to make your renovation, remodeling or extension plans without having to worry about a big contingency fund to cover the "unknown – unknown's" and one our recent client called them.
To illustrate my point more clearly. The money that you spend on a property assessment will be recouped several fold in your negotiations with the vender.
You will have documented proof that there is an issue or alternatively that there are no problems (most buyers keep that to themselves).
A clear understanding of a properties issues up front (and the costs to fix them) will make the whole process less stressful and you can carry your renovations knowing that they will not have to be taken up, demolished and re done when the original problems re surface as they undoubtedly will.
Castelo Construction can help you. Often at short notice so get in touch.
Our experienced assessors will view the property thoroughly and write a full report with lots of photographs so you are informed buyers and the seller cant dispute your claims.
contact info@casteloconstruction.com  or tel 00351 927168248
Visit our website www.casteloconstruction.com