You could call this our dodgy bumper Christmas collection of bad building work
Each year we are invited to provide estimates for refurbishment, remodeling and new build work in homes throughout Portugal.
Often we come across examples of extremely dodgy building work. Usually the clients don't understand how dodgy it is in fact we may be there to look at something completely different.
We occasionally take a few photos for our bumper Christmas collection of really bad and dodgy building work.
There is no part of a building that cannot be done badly or in a poorly though out or constructed, dodgy way. The usual areas are roofs, boilers, structural concrete supports, and terraces.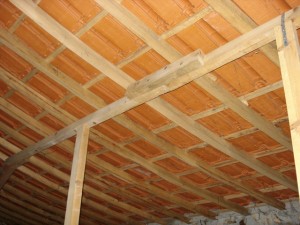 Starting with a new roof –
The timber is Eucalyptus and is cut way too thin so is not strong enough to support the tiles. It was put in wet straight out of the forest without being seasoned. You can see that it's bending and sagging which means that the roof tiles won't sit properly and will leak rain into the home.
But wait our hero has seen the problem and added a purlin to  make things right. The purlin is also Eucalyptus and is also cut way too thin so is not strong enough to support the rafters. Way to go dodgy carpenter.
The unfortunate owner had better start saving for a new roof.
The builders pi-ester de resistance is the block of wood nailed on the purlin to join it together as it was short and has no strength at all.
No matter what this house owner paid for the roof he was ripped off as it will have to be replaced.
Dodgy building work in Portugal can kill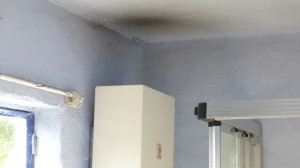 Now for a nice drop of hot water – An instant gas boiler is ideal for providing a hot shower or to do the washing up. Unless the boiler is fitted with a flue exiting into the living space like this one.
The exhaust gasses in the room may keep it warm but you won't notice as you fall unconscious for the last time with carbon monoxide poisoning.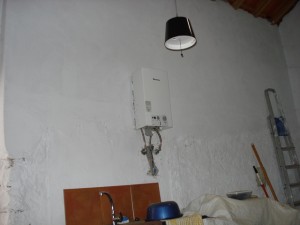 Here's another one this time in a very small kitchen, nice !
Then we have that wonder product of the 20th century – Old, used, engine oil.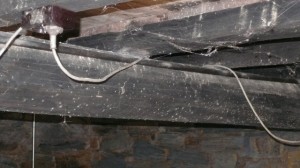 It is carcinogenic to humans, smells bad and is just the job for annoying the wood worm in your first floor and support beams. When I say annoy that's all it can do to them because it's totally ineffective in treating wood worm.  You try telling that to the villagers in your area.
When is a support not a support? When it's made of a hollow clay brick like this. The large concrete beam has been jointed and left supported by this brick.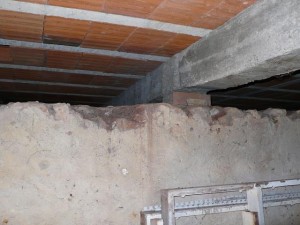 If you take a good look at this reinforced concrete pillar bellow you will see that its far to thin and you can see the reinforcing steel through the concrete when it should be buried with at least 35mm of concrete surrounding it.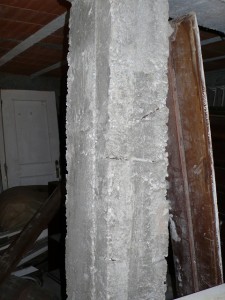 We often find that the main culprit is the reinforcing steel which will be either too thin or not enough of it, incorrectly positioned or not even used. This can make it very dangerous for our teams during demolition.
Beams and pillars that look how they should look on the outside can snap like a carrot because they have no steel reinforcing in them.
It was only good fortune that kept this house upright.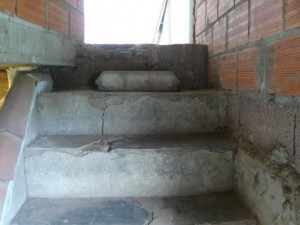 Stairs can be extremely dangerous especially to the old and the young. That is why there are laws dictating the height of each step (must be the same) and the depth of the tread must be the same so that you don't trip up. This beauty was in a house that previous owner said he had renovated himself !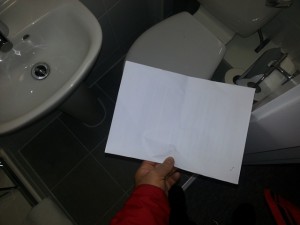 The wash basin is approximately 350 mm from the door frame. You have to limbo in sideways to the toilet. Once you get there you had better not be in a hurry because you can't sit down.
The wash basin pedestal is in the way of your right leg.
How could anyone leave a job like that.
If you want quality work to a fixed price call Castelo Construction 00351 927168247
or email info@casteloconstruction.com