It can be a huge gamble when you are buying a property particularly for the first time in a foreign country.
How do you know what to look out for when buying a house in Portugal ?
You will have a pretty good idea about houses in your home country but over here in Portugal the construction methods are very different the materials are equally foreign and the weather also can throw up some surprises.
Take great care you could be investing in a "money pit"
For a laugh and some shivers up your house hunting spine check out the film
"The Money Pit" it is a 1986 American comedy film directed by Richard Benjamin starring Tom Hanks and Shelley Long as a couple who attempt to renovate a recently purchased house. It is a remake of the 1948 film Mr Blandings Builds His Dream House starring Cary Grant and Myrna Loy. The film was co-executive produced by Steven Spielberg.
Back to reality –
Using this photograph of a typical Portuguese property built around 70 years ago. We can identify things to look at which may save you a lot of money, time and stress.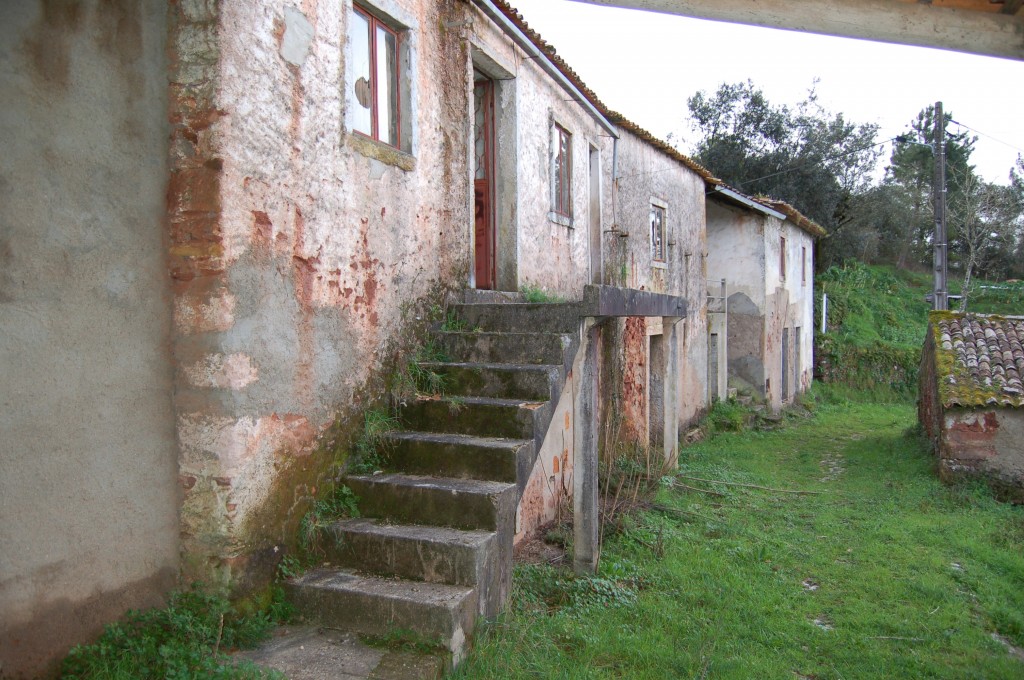 Firstly when we look at the facade of the building we can see that it is in fact 4 or 5 building joined together, each will probably have built at different times and as the family grew up and got married there would be another house built to accommodate them.
The external render on the first floor walls looks ok but all of the ground floor walls have been patched over the years and on the house closest to the photographer the red stains running down the walls show that rain water is getting inside the walls either from a damaged roof or through the old render.
The red stain is actually the soil washing out from between the stones which weakens the structure of the main walls. This needs to be investigated pronto!
You will also notice that the gutters are only on a couple of places. They are also too small to take heavy rain and as a result the rain will fall out of the gutters and onto the ground splashing up and washing off the render and making the walls damp.
The stone stairs have lots of weeds growing on them which demonstrates that the rain is getting in the crack between the house wall and the stairs making the house wall very wet on the inside.
How wet ? wet enough to grow plants – that's pretty wet !
Castelo Construction can help you by giving you an independent property appraisal which will help you negotiate a good purchase price and just as importantly help you spot a "Portuguese money pit" we can also help you to become one of our happy clients like the people who recently said "The transformation of the house was amazing" or "They started work early and worked hard throughout every day. They were totally professional and did an excellent job. They were responsible and caring as they worked round our possessions. They were simply the best builders I have come across, and really nice guys."
Contact  kelvin@casteloconstruction.com  to chat about your plans
We work throughout Portugal
https://www.casteloconstruction.info/tag/open-tread-stairs/
https://www.casteloconstruction.info/tag/steep-slippy-stairs/
https://www.casteloconstruction.info/tag/curved-stone-staircase/
https://www.casteloconstruction.info/tag/stairs-make-a-stetment-in-any-home-stair-design/
https://www.casteloconstruction.info/category/woodworm-wood-worm/
https://www.casteloconstruction.info/tag/narrow-or-steep-stairs/
https://www.casteloconstruction.info/2014/11/10/rustic-staircase/