I had a question from a person having a house built in the south of Portugal. We are asked similar questions to this on a regular basis so I thought I would try and give a comprehensive answer.
"My question is about the use of a damp proof course. I know that a damp proof course is part of the UK building regulations, and I see that the new Portuguese building regs look pretty comprehensive re: insulation, solar heating, wheel chair access openings, etc. So my question is: do you know whether a damp proof course is mandated in the new PT building regs? If not will/could it become a problem and should I insist on one being applied to our new home?"
My answer falls into 4 parts.
If your builder is experienced in modern construction methods he should comply with whatever damp proofing details are drawn on the design project as this must comply with current building regulations to be approved.(if you look in the specialties section of the project drawings) There will be very detailed drawings of how the house is protected from damp. Insist on receiving these detailed drawings from your architect. Then of course he has to follow the specification and not improvise or omit on site.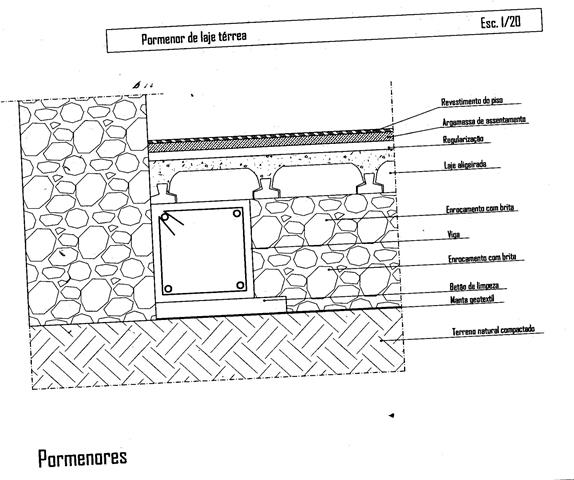 Portuguese homes do not as a rule have a DPC damp proof course. I often overhear people talking about this in cafes. Incredulous that builders "get a way" with not installing a DPC. In fact large parts of Europe don't install a damp proof course in their homes so it's not a Portuguese shoddy building  phenomenon.
The way that damp, moisture or humidity is prevented from coming into the home is made more complicated by the Portuguese method of column and beam construction. This method is stronger than a UK house in fact its earthquake-proof. So the structural integrity is very good. Stopping damp from entering the structure is more difficult but not impossible.
If you feel that the land you are going to build on is going to present a damp problem. Talk to your architect about how he is specifically going to address this in your build.
Go on site yourself (your architect normally won't go on site unless there is a problem) when they are laying the foundations to make sure they are following the design in the specialties.
If you're not happy act quickly and call out the architect so that he can check that everything is as the plan that he drew.
Or for peace of mind contact CasteloConstruction and our English speaking builders will help you through the process.
to see more of our projects  click here to see more about damp click here
https://www.casteloconstruction.info/category/damp-house/
https://www.casteloconstruction.info/2015/05/13/cold-damp-portugal
https://www.casteloconstruction.info/2015/07/21/injecting-damp-proof-cream-portugal/
https://www.casteloconstruction.info/2014/12/18/humidity-home/