Damp Cellar to Warm Dry Apartment
We are often asked to increase the height of old animal shelters and adegas so that our clients can create living space on the ground floor of their old houses in central Portugal.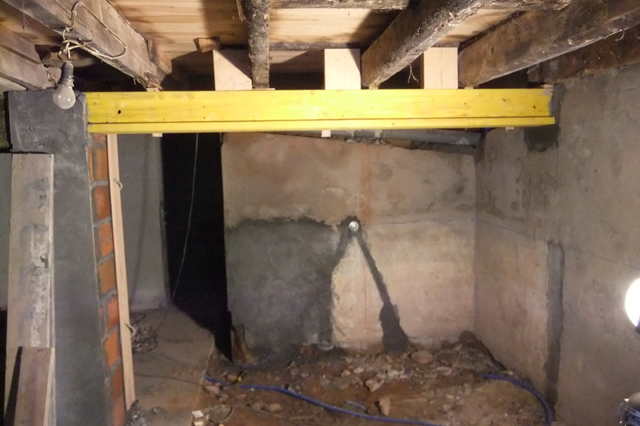 No two houses are the same and there is always a lot of discussion in out team before we come up with the plan for the way that we will tackle the project and the problems that we will no doubt unearth along the way.
This historical house has turned out very well and our client is delighted with the additional space and craftsmanship.
Firstly there was a good clear out we got rid of masses of accumulated wast that had been deposited in the cellar over time.
Then we set about demolishing any thing that was not needed such as old olive soaking tanks and animal pens. Since we had the space clear we could see what we were up against.
We started the re plumbing and re wiring the electric circuits. The old inadequate cesspit in the cellar floor was decommissioned and filled in an a complete new sewerage system installed. A pump was installed to take the wast water from the bathroom and pump it up hill into the council sewers outside in the street. Next we addressed the wood worm and wet rot, it was everywhere.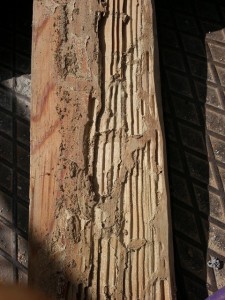 We had the wood worm professionally eradicated and all new materials were also treated.
Apart from rotten floor boards in the floor above we discovered major damage in the houses main support beams.
These had to be addressed first.
We removed the beams and replaced them with strong engineered timber. This had the benefit of adding to the headroom so it also improved the living space.
Cellars are often considered to be cold, damp and dark and certainly this one was no exception until we carried out the refurbishment.
It is very important to make sure that you insulate the walls of old stone houses We turned our attention to the walls using a modern tanking system and insulation we produced a space that heats up very quickly in the winter and remains cool in the summer.
The ceiling was also insulated and fitted with "daylight" lighting. The old external doors had their panels removed and replaced with glass making the apartment a very light pleasant place to be.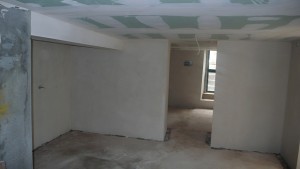 Once the walls and ceilings were painted and the floor tiled you could really appreciate the transformation.
Finally the kitchen was installed, the bathroom modernized and re fitted ready to hand over to the client.
If you need more living space in your home contact Castelo Construction   info@casteloconstruction.com
or check out our website www.casteloconstruction.com
For more information on damp in Portuguese homes go here
https://www.casteloconstruction.info/category/damp-house/ https://www.casteloconstruction.info/2015/07/22/property-survey-3/ https://www.casteloconstruction.info/2015/05/13/cold-damp-portugal/ https://www.casteloconstruction.info/2015/07/21/injecting-damp-proof-cream-portugal/
https://www.casteloconstruction.info/2014/12/18/humidity-home/