People often ask about the condition of a roof or floor when they are showing us around their newly acquired home in Portugal.
Woodworm problems!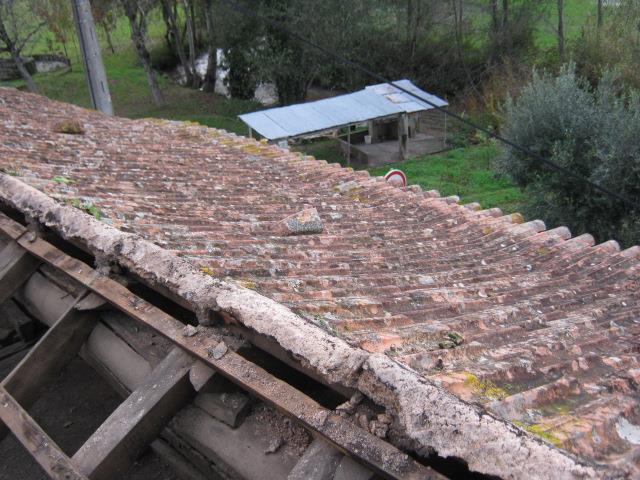 They either noticed the presence of woodworm and tried to ignore it or did not see it the first time around.
When its time to discuss the alterations or improvements they want to make to the property it usually comes up in conversation more from an "I hope they say it's nothing to be concerned about" point of view
then a practical Let's get rid of it NOW! standpoint.
Admittedly it is hard to understand what the effect of visible woodworm is going to be unless you have lots of experience.
As I write this my new near neighbors are ripping out their old boarded ceilings and replacing them with plasterboard. I hope but doubt that they have spent any time or effort in eradicating the real problem that they are about to cover up.
Take a ceiling for instance if you can see woodworm damage in the ceiling then you most likely have Wood wormed roof joists, tile lath, and trusses.
It's a real case of papering over the cracks this time with plasterboard! Which is going to become apparent in the medium term? It's not just homeowners who hide woodworm problems hoping they will go away. We have experience from property appraisals that we carry out some of the devious ways sellers try and hide the effects of woodworm damage in the hope that dumb foreign buyers won't notice the problem.
The bottom line is that a serious wood worm problem is always going to cost you. Hopefully, we can make that cost minimal while providing a lasting resolution to the problem.
contact Castelo Construction info@casteloconstruction.com"