Could your house collapse its a nightmare scenario.
Could your house collapse you hope not! Obviously but do you know whether it could collapse or if it is definitely sound.
I have heard this a dozen times or more from recent property buyers in Portugal proudly saying of their new acquisition "its been standing here for 100 years it will stand for another 100 years"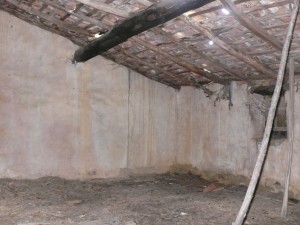 The trouble is I know different.
In fact only yesterday a friend called to ask for help because his grandfathers house had just collapsed into the street. There was no apparent problem with the house in fact
"it had been standing there for 100 years"
Do you see where I am coming from?
What was the cause? an earth tremor, accident, a nearby tree falling onto it?
No it was just the rain, torrential rain over 5 days and the house couldn't take it.
Why did the rain make the house collapse now and not years ago?. The house was a stone built village house constructed about 100 years ago. The roof was bowed and sagging although not noticeably more than its neighbors.
The reason was a mixture of two effects both caused by rain.
1, The rain entered the external wall of the house through a broken roof tile this acted like a funnel to channel the rain water into a single place from the roof tiles above. The drip of water softened the soil between the stones and as the heavy rain came it acted like a hose to soften more mud and wash it out so that the large stones which the house is built with we not bound together.
This pile of loosened stones was lying on top of the soil as it always had been now that the stones were no longer bonded together the roof under load from the high winds just pushed the exterior walls over and then slid into the street.
A very sad and expensive incident which could have been prevented with some low cost maintenance.
Hindsight is a wonderful thing of course and If the owner had thought about it or asked someone to look at it he would still have a house and not a pile of rubble and stones which he has now has to pay to have moved off the road.
Castelo Construction are here to help you get the best out of your new home in Portugal     info@casteloconstruction.com
Telephone 00351 927168247