Before you start building or renovation work in Portugal
Here is a little something that you should add to your list of most important jobs.
It is something that is often forgotten or only half done during a home build or refurbishment project. For some reason Portuguese Architects are also well behind the curve on this topic.
The advice is the same whether you are living in a one bedroom apartment, a schist, granite stone renovation or a million + Euro Palacio.
Providing adequate ventilation to bathrooms and kitchens.
The trouble is that your "adequate" probably is not mine and it is also not an open window.
Most people regard the bathroom as being a separate part of the home but it is not. The damp air from the bathroom contains a lot of water vapour which is mostly invisible and is probably causing you condensation problems in other areas of your home. Bedrooms are a prime example, behind wardrobes, bed heads and in the ceiling corners.
How to work out what "adequate bathroom ventilation" is in your home.
To know which is the ideal extractor fan you'll need to work out the cubic capacity of the room (width x length x height).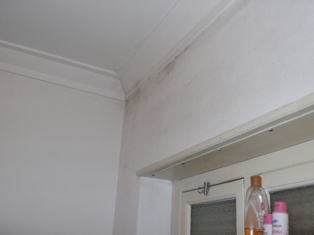 You will also have to know the 'air flow rate' needed which is pretty easy to calculate.
Example:- for a bath with no shower allow six to eight times per hour.
For a bathroom with a shower allow 15 to 20 times per hour.
Using my bathroom as an example which has a capacity of 14.3 m3 (cubic meters) and has a shower and bath so that is 20 x 14.3 = 286M3.
Now I know the flow rate that I need.
The trouble is that fan manufacturers label their products as "Suitable for 2 – 7 M2" Which means that you are going to buy an extractor that is way to small in capacity and wasting your money. (the real information on flow rate is usually in the small print on the back)
What the UK building regulations say
Toilet/sanitary accommodation (22 m3/hr)
Bathroom/shower room (54 m3/hr)
Enjoy your bathroom more this winter.
Contact   info@casteloconstruction.com to learn more about the projects and building work we carry out in Portugal
Check out our many building projects all over Portugal www.casteloconstruction.com