We were asked to take a look at insulating a typical stone house in Portugal.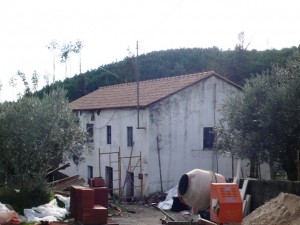 This is something that we do all year round as it is the only way to be comfortable in your home in either mid winter or mid summer.
We were asked to carry out an appraisal of the whole building because the owners who were fed up having to pay heavily for heating and cooling all year wanted to have the problem sorted out once and for all.
They also had a damp problem which resulted in the paint bubbling and falling off the internal walls.
This is what we said (abbreviated) in our report
Roof – There is some sagging because timber that is too thin (not strong enough) was used to make the roof.
Sagging causes tiles to move apart, bend, break and allow rainwater leaks.
The very low living room roof is to flat for th roof tiles to be able to function properly it should be 28 degrees and is actually 10.
Recommend replacing the roof and re tiling with interlocking frost proof tiles.
Applying (40mm rigid insulation the roof)
Electrical circuits could do with replacing, re positioning, adding more switches and sockets and moving all the wires inside conduits within the plastered walls.
Damp
The house is built very low into the ground both the living room and kitchen floors are almost on the water table.This means that the bottom of the walls are always humid (rising damp) because there is no D.P.C. damp proof course in the walls or floors (normal in Portugal).
The humidity which is passed from these walls and floor as invisible water vapour lands on other cool areas of the home as damp patches/condensation and eventually pushes the paint off the walls. There is nothing that you can paint on the walls to fix this problem.
The permanent solution is to tank the walls with "Triton" membrane and re plaster or fix insulated plasterboard (dry lining) depending upon the style of interior finish that you want. You may also want to insulate the internal walls of the property at this time. Recommended (40mm rigid insulation)
If you do apply the tanking, insulation and re plastering the whole house will be transformed. You will no longer have the mold problems when the house is locked up.
Contact Castelo Construction to make your home warm in the winter and cool in the summer.
Check out some of our renovation and new build projects at WWW.casteloconstruction.com