If you have just bought a home in Portugal that is not brand new you are probably thinking why this house cold or conversely if you are reading this in July or August. Why is this house too warm to sleep in?
After a winter or a summer here you may have gone the whole hog and bought air conditioning or central heating in order to improve you living conditions.
You may already have heard the description of being a yacht owner "it's like standing under a cold shower tearing up and throwing away £50 notes"
Running air conditioning or central heating in a poorly insulated home is exactly the same outcome as the yacht owner. Don't do it !
There is a way of making your home warm in the winter and cool in the summer and it also has the advantages of banishing for good the black room corners and ceiling spots caused by condensation if passive ventilation is added.
Take a house built 15 years ago which has no insulation in the ceilings, roof or walls. Yes it should have had the insulation but it was not put in to make the construction cheaper. The previous owners would sit huddled around a gas fire wearing coats.
The new owner after spending an autumn in the property was looking at installing bigger, better, heating and also painting the outside of the house. We advised him that if he insulated the house and then painted it that the cold house would become warm and the new paint that he put on would last 50% longer between re painting.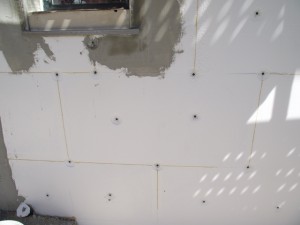 He thought that this was a no brainer especially when he saw the price breakdown of our quotation.
This is what we did to make his cold house a warm house and a cool house in the summer.
We fixed insulation to the exterior of the house with a special adhesive and mechanical fastenings which don't conduct heat and then we rendered it with a special render.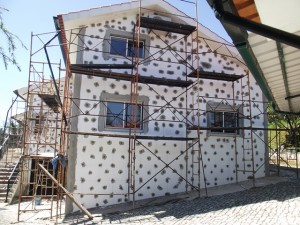 After that it was painted with two coats of exterior paint.
If you have a Stone house in Portugal or an older home we understand Insulation & Portuguese homes. Contact info@casteloconstruction.com