I am sure there are many people reading this blog post who are looking for their dream property in Portugal.
Of course everyone's dreams are different and you could find that your dream property in Portugal is your partners nightmare or visa-verse.
Take this little gem for instance, definitely cheap and no estate agents fees as it has the phone number on the hand written board fixed above the door.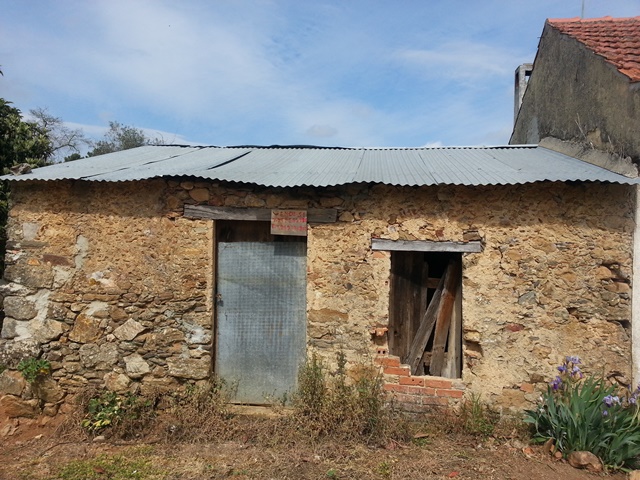 All you have to do now is find someone who speaks Portuguese to talk to the owners and in three weeks you could be the proud new owner.
Now lets take a look with our very jaundiced and highly experienced eyes.
Castelo Construction have extended, remodeled and refurbished many old properties in Portugal. Properties made from all sorts of materials and built to all sorts of quality standards.
From this simple drive by photograph we can see a lot and we hope that this "warts and all" opinion will help you find not just your dream property but one that satisfies your partners requirements and holds its value for the future.
Where should we begin?
Keeping away from the ownership and legal issues we will start with what we can see in the photograph.
1, How old is the for sale sign. The older the better for your purchase negotiations.
2, Is it a house (habitation) It looks like an old, very poor home but is it registered as one now. You should never assume a property is registered as a home.
3, It has a new tin roof. This is the cheapest possible solution to keeping the rain out which would make the stone and mud walls collapse. Are the original roof timbers in place or have they been replaced. Better budget for a complete new roof.
4, It has no window frame. They must have rotted away or burnt out. Check for signs of a previous fire as this can weaken the walls.
5, The stone window sill is missing and you can see the repair to the lower wall under the window in cheap brick. This does not bode well for the general structure of the building if the previous owner carried out repairs badly. The lintel at the top of the window is not level.
6, The house is single story and attached at one end to an existing two story building so you may not be able to raise the roof or put in "Velux" style roof windows.
7, The stone work is not well made the stones have not been laid tight together and there are signs that it has been repaired many times in the past.
Our conclusion – The building is just 4 poorly constructed walls. Look elsewhere or if you truly love the location knock it down, build foundations, damp proofing and rebuild again with the old stones.
Castelo Construction. Helps people like you to get the very best out of your new home in central Portugal.
Whether it is an old house that you want to refurbish or a new home which you want to construct. We help you to make the most of any property project with our professional, design, construction, project management and maintenance services.
Professionally managed services with full accountability ensure that you get what you want. On time and to budget. We work only with experienced and licensed tradesmen, architects and engineers to deliver exceptional results.
Check out some of our project on www.casteloconstruction.com of contact us direct at info@casteloconstruction.com