Buying long term empty houses and bank repossessions in Portugal.
I was recently asked to take a look at a house that had not been lived in for about 7 years. I do think that although it may have been lived in it must have been occupied by very old people.
The trees and shrubs in the jungle of a garden we enormous. There were shrubs that i have in my flower beds that were as thick as telegraph poles.Which suggests to me a resident who was not able to carry out normal gardening work.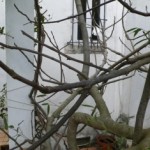 Interestingly because the house had been previously equipped with bars on the windows there  was no trashing inside as you might expect. Instead there was a nice house and with with some TLC and a few minor updates could be lived in at once.
There was a lot of "chain saw" gardening to be done but that could wait and be carried out at your leisure.
The converse of this scenario is when you buy properties from a bank.
Firstly the banks have no interest in helping you to understand the boundaries of the property, services and their connection- condition. All they want is for you to pay your money and take it off their hands.
Very often you will find that a bank repossession is stripped out and damaged. It could just be dirt and graffiti. More likely it will be  stolen electricity cables, light switches, kitchen units, boilers, taps wardrobe doors in fact anything that could have even the smallest value such as wood strip flooring.
This is usually done by the previous owners because it takes time for an eviction and the people become bitter.
It is important therefore to obtain quotes for the work to bring back the property into livable condition as you may get a shock.
I have been asked to inspect a few that were also effected by fires which had been set by  the ex owners. Another unwelcome aspect of buying repossession is that the family of the previous owners (the ones who were turfed out) may be your next door neighbors which means that a few times a year when they have social gatherings in the village you may be rubbing shoulders with them.