What makes living in central Portugal Special?
Here's a fine example, not everyone's cup of tea granted but it's something we love.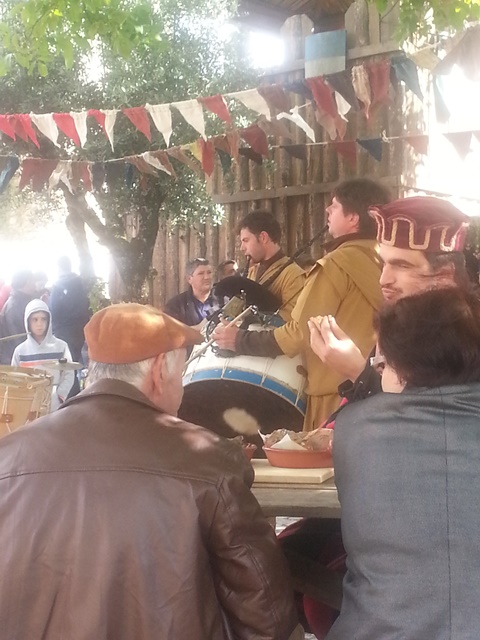 The Penela Medieval Festival that took place last weekend was a triumph.
The weather was cool and the crowds were down on ten years ago but the people and atmosphere made up for it.
We arrived late afternoon Sunday. You know how it is you have a thousand other things to do so it's easy just to give it a miss. We were heading in that lazy direction when we heard the sound of explosions coming from the castle and the thin sounds or medieval music wafting across the 1 kilometer space between our home and the castle.
So we decided to wrap up warm (in May ! ) and go along. We were glad we did. After walking past some of the stalls browsing the merchandise a lot of which was hand made we bought a large chorizo tried some fresh cooked black pudding and carried on into the courtyard of the castle.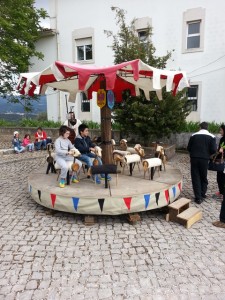 Stopping at the Tasquina (rustic restaurant) in this case it was indeed very rustic. We ordered wine served in an earthenware jug and drank it from earthenware cups we had a selection of cooked sausages and a huge serving of barbequed lamb accompanied by Moroccan rice which was both hearty and very tasty.  The bread which came with our meal was traditional brua and a rye bread equally tasty and ideal for nibbling with the sausage starter.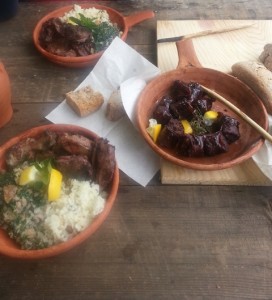 The main course was eaten with pointed sticks and a wooden spoon. Very authentic!
There were masses of local people dressed up in medieval costume. Everyone from the  people clearing the tables to the children involved in the tumbling display. The traveling actors had on the full regalia and were impressive in their costume as well as their ability to get people involved.  Granny forced to act as a juggling stooge was loudly appreciated by her young  grandchildren. There was sword fighting, falconry and lots of pipes and drums.
This weekend long event is free and the people are very friendly so give it a try next year.