Warm swimming pool water for free
In an effort to prolong the comfortable use of our swimming pool beyond the usual 3 months Castelo Construction researched over eight months to find the most suitable products and methods to achieve our goal.
The reason for doing this was that we often had friends and family visiting our home in Portugal throughout the year and they would be tempted by the beautiful blue water in  our swimming pool only to find that it was icy cold and not at all pleasurable to swim in. Even the most hardy of fools could only stand a few minutes.
Most traditionally built swimming pools and that includes fiberglass pools leak the heat gained in the water directly into the surrounding ground. The rest is lost through evaporation and the wind. Resulting in swimming conditions more akin to a fish pond than a swimming pool. The result is that you have an average of three months a year when water temperatures are bearable.
That's a lot of money invested for 3 months use.
We developed the techniques to insulate a swimming pool so that they could be used to upgrade existing swimming pools as well as new builds.
For more information contact info@castelocondstruction.com  or to see some of our swimming pool projects go to www.casteloconstruction.com
One of the major benefits that we discovered is that not only does the swimming season extend to six months but the peak water temperatures are much higher. Which means that our pool is ideal for young children who can get chilled quickly in a normal pool to learn to swim.
Once your pool is insulated there are no additional costs just a longer (double) swimming season and a better return on your original investment.
Here are the statistics proving that you get warm swimming pool water for free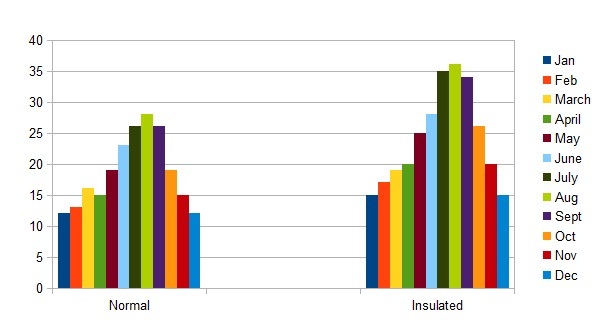 Contact info@casteloconstruction.com