House Inspection
 Ferreira do Zezere Lat/Long N 9.74. W .4.289
Main house Inspection Outside walls, Materials Stone, clay infill. Only a few short cracks visible on the outside surface.
Render on house in good condition Adjoined to other property by a barn Roof Condition – materials Wooden roof with flat clay tiles approximately 45 years old. The roof has very little sagging and no tiles appear to be missing when viewed from the ground. As the first floor ceiling is painted wood and the access to the roof space was locked it is impossible to examine the condition of the roof timbers. In any event at the very least they should be thoroughly sprayed with wood worm killer. Gutters are fitted and look in ok condition. The down pipes are in poor condition and have been patched. Chimney Exterior, looks sound when viewed from the ground Interior of outside walls in good condition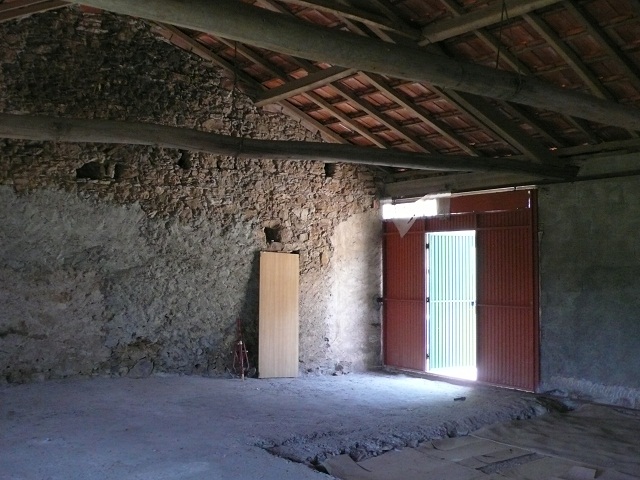 Insulation The house has no insulation at all, windows are single glazed. Interior partition walls. There are small cracks above doors running up to the ceiling on the first floor.
My opinion is that when the concrete beams were put in to support the partition walls and first floor it may be that there were put in with the internal walls in place. I believe the cracks are due to localized settlement and should not prove to be a major problem. Ground floor condition – fair condition. Construction solid concrete floors, rendered stone walls. Half the house has a cement floor the other half has a wooden floor which has been patched due to insect damage.
First floor condition, habitable Second floor condition, habitable Condition of Ceilings, ground floor – poor in places. First floor – no sagging apparent and only minor board twist
House Inspection utilities
Electrical service, meter, 15 amps may require a rewire as there are surface mounted wires. Water supply, Has water meter.
The Fossa (tank) holds rain that runs off the roof. This may be a good container for your grey water. It should not be considered a source of drinking water due to the proximity of the cesspit. Signs of flooding, rising damp, condensation. None obvious. It should be assumed that all ground floor walls will be damp to a height of 1.4 meters especially in the winter months. Condensation Dry Rot Wet Rot, None seen
The small ground floor adega (wine making room). The roof is badly damaged by wood worm. I would suggest that it is stripped out and replaced. If you are only going to use it as a store you may be able to keep patching it up.
House Inspection – The Barn and Animal shelter.
From the top down. The roof of the barn is a lightweight construction of Eucalyptus wood. Which is in fairly sound condition. Eucalyptus wood behaves very badly when wet. It soaks up water and holds it, rotting very quickly.
There are examples of this in the roof (wet rot) it is fairly worm resistant but should be treated with woodworm killer. I would suggest that the roof tiles are taken off (they are not nailed), wood worm killer applied, an under tile waterproof membrane fitted and insulation (Roofmate) if desired.
The walls are single brick construction so there is no insulation. The floor is wooden and rotten due to woodworm. I would suggest that a new floor is fitted either in wood, with worm resistant floor sheeting or concrete with "vegas and tilho" The ground floor walls will have to strengthened for a concrete floor. The ground floor walls are single skin brickwork. Damp and the effects of the damp/animals can be seen in damaged bricks. If you are going to make the ground floor habitable.
You will have to build an internal ring foundation, second skin of brickwork inside the existing walls, insulate the cavity with "Wallmate" to produce a dry interior. This would also be useful if you want to support a new concrete first floor. Some things to think about. As the barn is a farm building and because of its isolated position. I doubt if it is register as such or has any planning permission. This is not an issue normally. However, if you are going to convert it into habitation, knock windows through the outside walls and provide water electric a sewerage.
Then it would have to be registered and you would need planning permission and a planning project and license to build. Castelo Construction carry our all types of construction work to a high standard, we project manage and help source items that you may require to be added you your new home. Most of our new build or refurbishment clients are living outside Portugal when the work is being done. We understand a client's need for regular and clear communication.
We send frequent reports with photographs detailing work done, suggestions and questions. One of our past clients collated all the reports that were sent to him during the building process and gave them back to us as a power point presentation which was what gave us the idea for our E-brochure www.casteloconstruction.com Please have a look at this site as it will give you an idea of what we do and the quality of finish we strive to produce.
We will be pleased to show you some recent projects and provide references. Skype  castelo or telephone 00351 927168247