Curved Stone Staircase
Curved Stone Staircase Our clients often look back at the original photographs of their homes in Portugal and compare them to the ones taken after we have refurbished, extended or altered them.
It's always fun to see the difference and it can also be useful to people as it helps them to understand what they can get out of an old crumbling house in Central Portugal.
Each home is different and our skills with your imagination can produce attractive home which gain substantially in value.
On this property we designed a curved tower which was originally a tumbled down goat shed and created a curved staircase in limestone.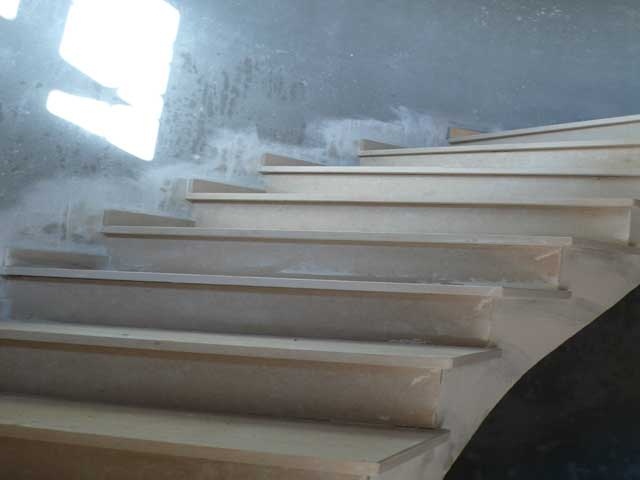 Curved Stone Staircase
The curved stairs were constructed in reinforced concrete and then covered in solid stone the finished stairs add a touch of class to the main entrance to the house.
Contact Castelo Construction   info@casteloconstruction.com or go to our website to see more projects displayed step by step.  www.casteloconstruction.com
Stair Design
The design of a staircase can make a statement about your home as its often seen by people entering or leaving your home.The design and materials used will usually be a permanent feature of a home or building.
What are the components making up a staircase
Stairs can be made from timber, concrete, stone and sometimes steel or stone or laminated glass.
Definitions
Flight = steps between levels including landings.
Landing = flat area at the top or part way up the stair that either acts as a resting place, a change of direction or is the end of the stair.
Tread = Surface of a step, which you tread on.
Riser = Distance between each step. Hight between each step.
Nosing = Front edge of the step or tread.
Going = Horizontal distance between nosings.
Rise = Distance between treads.
Total Rise = Vertical distance from floor to floor.
Total Going = Horizontal distance of the stair.
Pitch = Angle that the flight of stairs is built at.
Headroom = This is the distance from the pitch line to the next surface above it the ceiling above.
Curved Stone Staircase