Its often difficult to find the Ideal
entertaining furniture for your home in
Portugal.
Most run of the mill tables and chairs for instance are not suitable.
Take the scenario of those times when you have family and friends around for lunch. You may have enough odd  chairs to make do but your table will no doubt be too small. For a truly memorable get together everyone needs to sit around, eat and talk. Its what holiday memories are made of.
Almost ten years ago we were asked to help find a table for a client who wanted to put a table on his newly built veranda (plug for our work here) so that they could enjoy the amazing views while dining. What we came up with was a granite topped table as it was going to be outside all year and we didn't want the possibility of it blowing over when the owners were not there. We introduced them to the granite workshop where they chose a beautiful piece of granite and had it cut into a eight seater table. The legs of the table were also designed by the client on a paper napkin over lunch. The finished effect was a triumph.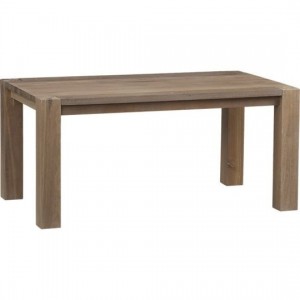 Bolstered by this our client also asked for a solid oak farmhouse style table to be made with an oak bench and chairs. We asked our usual carpenters to make these and the client was amazed at the quality and how reasonable priced they were.
We had had cabinets created to specific designs and recently we had a request for a ten seater dining table in solid wood. The client had seen one that they liked on the internet for £3,000 (without chairs) they then did more research to find the ideal dimensions for a 10 place table and we took them to the carpenters.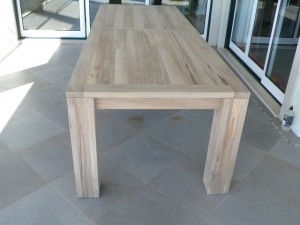 Three potential timbers were discussed as being suitable for a table which would live outside undercover. The favorite was Portuguese Walnut. I have to admit that the sliced up tree did not look too inspiring to me but we were assured that as it had dried naturally for many years it would be very stable and should not split or warp.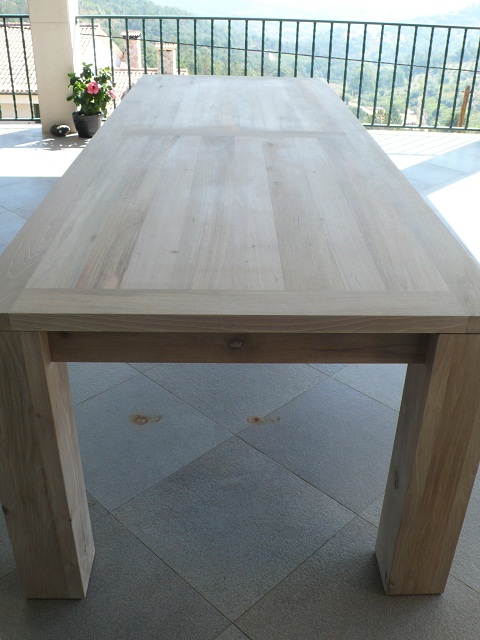 Once the table was placed in its position it was cleaned with a special wood cleaner then four coats of teak oil were applied so that any wine spills would not stain the wood and also to show off the grain which walnut is famous for.
If you have a home in Portugal and would like a piece of hand-made furniture like this table contact Jose on 00351  936474181  or send him an email on geral@mcjad.pt