Modernizing, refurbishing or renovation of an old house in Portugal
If you are about to start modernizing, refurbishing or renovation of an old house in Portugal or would like to buy and old house in Portugal
You have come to the right place
Here are some of the most common mistakes that people make when they decide to renovate their own homes, so you can avoid potential pitfalls and have a successful build that rewards you with a fantastic home in the end.
You would imagine that there would be an easy to locate and understand check list for doing this wouldn't you?
A simple list in order of importance that people like you could follow and cut out the stress from modernizing, refurbishing or renovation of an old house in Portugal.
Unfortunately we often meet people who have started half way down the list because they either didn't know about it or got carried away and then have to back track at great cost in order to cover all the important bases.
Don't get me wrong it's a perfectly understandable thing to do if you are sitting in a cold rainy UK, Germany or Holland dreaming of your ideal place to live in the sun.
I am guilty myself of sketching floor plans and elevation plans of my modernizing, refurbishing or renovation of an old house in Portugal.
One design even had an increased floor area of 50% which was impossible to achieve. I do realize that you are not alone!
The first consideration is the. Location, location, location.
Have you established for certain that the modernizing, refurbishing or renovation of an old house in Portugal can be legally carried out you need to establish what the finished property would sell on for when you are ready.
That is the value of "the property" that you are going work on after the work is done and not local properties.
Obviously you need 2 or 3 professional opinions on this.
The reason that I stress this valuation is that many people come here and spend a fortune on modernizing, refurbishing or renovation of an old house in Portugal and blindly expect the property to be highly valuable after the work.
Take for instance this picture as an example.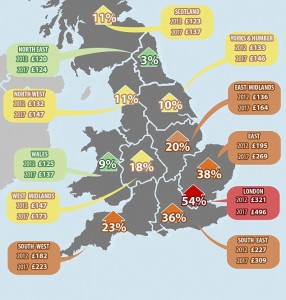 Property website Zoopla has calculated the typical square footage value of a property in different parts of the UK.
Although it is based on UK data it holds true for Portugal as well. If you spend 30,000 Euros on the same property in different locations you will raise the value of the property by different amounts. Do not expect the cost of your 100,000 refurbishment to be recouped unless you have the correct design, standard of building work and LOCATION.
Lets start looking at practicalities –
Is there access for construction vehicles. Is the ground and existing walls suitable for building on without huge additional cost.
Can you actually fit the size of home that you want on the plot with outbuildings and a swimming pool (are you sure).
Is there water and power nearby that won't be difficult or take a long time to make utility connections so that you can live in the finished home.
Plans drawings sketches, photographs. Do you have a firm idea of the property changes and additions that you want to make. Number of bedrooms, size and number of floors.
You probably do and you may be one of the 10% who has the work required all listed so that an accurate work quotation can be made by your chosen builder.
The rest seam to design as they go along which is the most expensive way to carry out the work by far.
We are often asked to give a ball park renovation price for a property that people have not yet even bought.
How can anyone give a price for work that is not described in even the briefest detail?
Here are the 5 top mistakes people make when modernizing, refurbishing or renovation of an old house in Portugal
Designing Without a Strategy or budget
Not Picturing Family Dynamics When choosing an old property
Thinking the Cost of All Square Foot refurbishments Is Equal
Choosing a technically complicated refurbishment because they saw it on TV
Incorporating Excessive Extras