With all the rain that we have been having lately it is hardly surprising that we have had three identical calls from people who have water running out of electrical fittings when it rains.
This may be very funny in a TV sit-com but when you are locating buckets under the drip drip drip or mopping up the water it can be frightening. Just what can you do in this sort of situation water running from electrical outlets is no joke.
We have met several people who have just waited for the rain to stop and the water flowing through the socket for instance to stop and carried on like nothing happened.
These photographs show what can happen if you do not resolve the problem by having it fixed.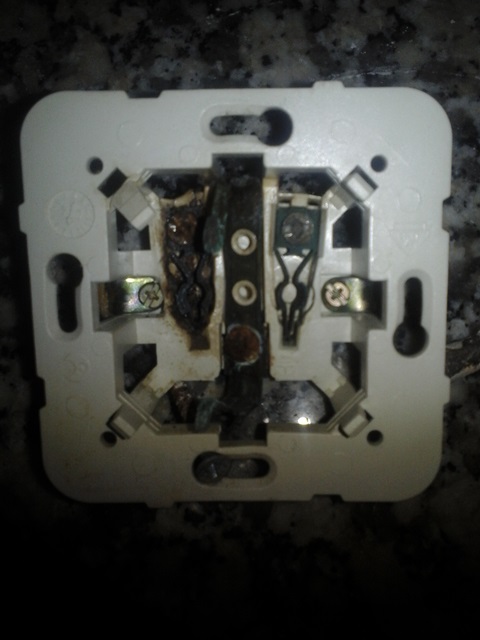 This Photo shows an electrical socket that has been shorting out behind the socket cover plate.
(the part that you see).
After removing the cover plate we can see the burnt terminal on the left.
Not only was this a potential electrocution problem for anyone using the socket it was also a fire hazard.
Only a crazy person would knowingly live with those risks.
The problem is very common and a quick brows of the internet (assuming that you still have power) will throw up lots of examples.
Recently we noticed that water was dripping out of our light switch in our bedroom.
https://answers.yahoo.com/question/index?qid=20080125165352AAD3kjt
If the water has come in contact with electrical sockets/lights you should turn off your electric at the mains.
If the water has come in contact with the mains box – DO NOT ATTEMPT TO TOUCH. DO NOT USE ANY ELECTRICAL EQUIPMENT IN THE HOUSE THAT REQUIRES ELECTRIC MAINS SUPPLY.
http://www.nihe.gov.uk/index/advice/emergency.htm
If you are worried about leaks of your electrical circuits please email info@casteloconstruction.com