Does your bathroom ceiling look like this – Black marks on your bathroom ceiling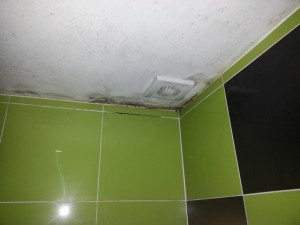 You certainly don't want it to be like this. Covered in black mold spores and humidity. How do we make a solution to the problem and save the house owners having to clean off the mold every month.
Fortunately in this particular situation there is a pretty easy solution.
First of all there was at least an attempt at expelling the humid air from the bathroom but it didn't work very well as the fan was rattly and noisy so people turned it off.
It was also way too small to be effective and thirdly it did not have a corresponding air source into the bathroom so this weak little fan was having to work twice as hard and not actually doing anything other than just making a noise!
How should it be done?
Our recommendation to the client was to install a much more powerful and higher capacity fan with a humidity sensor. Not linked to the light switch.
Bathroom extractor fans are rated by the amount of air that they can pass through them in a set time usually an second.
So for instance if your bathroom is a typical 2.2 meters by 2 meters.
This would give you a floor area of 4.4 m2 and a cubic capacity of 6.16 M3 (cubic meters)
This is important because if you buy a fan with a low capacity then it will take a very long time to change the air in your bathroom and remove the humidity.
There are plenty of extractor fans available for under 60 Euros.
Make sure that you buy one with 21 to 30 liters a second capacity. These will change the air in the example bathroom above in about 5 minutes but you really want to be sure so the humidity sensor is better than a timer because the fan will work until the humidity is at the correct level.