When you are sitting in the shade on your holiday it is almost impossible to comprehend that Portugal's coastal climate could be bad for your home.
With high levels of humidity, constant sand, sun and salt attack you may be in for a shock when you return to your holiday home.
Last weekend we went to the coast admittedly it is January and the sea was very rough.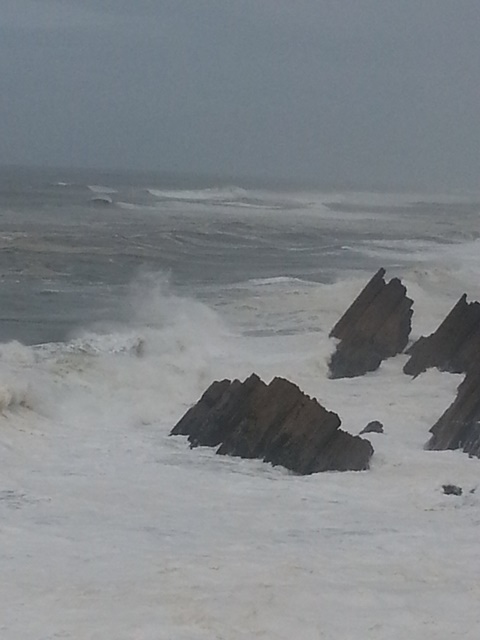 Although there were none of the enormous surfing waves that the area is famous for there were plenty of large, heavy, crashing waves that you could hear before you arrived at the sea front.
In fact the waves, rain and wind had already eroded several areas of land around the cliffs.
Before lunch we walked around the village as it was quite and it gave us the chance for some pre lunch exercise. I was telling my friends about when I lived close to the sea in the UK. I dreaded the winters and how they would degrade the finishes of the house requiring re painting every year. Steel railings where a nightmare to keep in good condition they almost rusted in front of your eyes.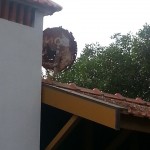 Then we came across this satellite dish and I must admit that I laughed out loud.
Normal metal meets Portugal's coastal climate conditions. It is of course not just steel and paintwork which is effected and damaged it is almost anything like bricks and lime render and normal timber.
In fact you have to make certain that you are using the correct type of stainless steel and fixings or they will rust and look a mess and ultimately have to be replaced like the TV dish.
So how do you make sure that you are not constantly refurbishing and replacing parts of your home. Think tough external finishes. Not just hard wearing but suitable for a marine environment.
Although your aluminum or UPVC windows wont rust the fixings certainly will particularly if you have steel screws fitting hinges and handles to your windows and doors in fact it is best to use fixings in the same metal as your hinges to stop electrolysis.
Verandas and patios are going to move a lot with the summer time heat causing expansion and the winter causing contraction so ask your architect to specify in a drawing how your builder should construct outside stairs, verandas and terraces so that they will not let rain water into your home in the winter. You can bet your bottom dollar that if the builders are left to do "what they always do" you will sooner or later have a problem.
Do not used polished finishes such as stone or high gloss tiles outside because they will become dull and patchy in appearance very quickly. If you going to use timber make sure that its fixed from behind or glued because the screws or nails will very quickly rust through.
In conclusion it is harder to say what to do than what not to do.
Here goes !   – external finishes in natural stone even if it is only suspended cladding.
Windows and door would be in powder coated aluminum and all fixings would be in the same grade of aluminum.
Glass would have UV protection and easy clean coating.
All external metal trims and railings would be either glass or marine grade stainless steel.
Roof tiles would be fixed down and fired clay.
External drains would be large diamiter to cope with the wind blown sand.