It's a little strange being a builder. You get to enjoy building all these nice homes and features that are usually the ideas or personal taste of someone else.
We do of course try to "put the cherry on top" of anything that we do but we rarely build anything that we have designed from scratch unless we are reconstructing an old house to be sold or carrying out a new build where we have worked with the architect to get the best possible use out of a space.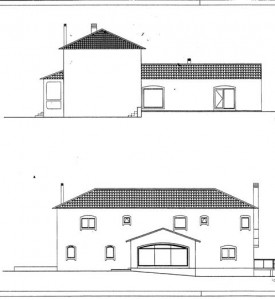 I was browsing the HOUZZ design blog the other day looking for outside spaces looking for inspiration regarding outside shaded areas ideas and outside dining room ideas for a new house that I am designing for a plot in central Portugal.
My interest wasn't so much the colours and textures it was more in marrying the practical aspects of providing the right type of shade, shelter from the wind, access to the views and types of use.
Hot summer days, sunset dining, night-time parties and winter.
Add to this my requirement for a comfortable, stylish seating area and adequate space for a large table to enhance our long lazy lunches with friends.
It seamed like an impossible task. I usually take exterior design inspiration from nice restaurants or luxury hotels. I still receive friendly ribbing about our recent holiday photos which consisted mainly of a roof and infinity pool designs.
The main thing that hotels do right is the use of heavier outside furniture so it can't blow about or over turn and thicker cushioning to the chairs which gives a feel of luxury.
Back to HOUZZ The photographs that I saw of a project designed by Vuong Interiorismo had everything that I was looking for and a great idea in terms of the dining area adjoining the seating area.
Taking a look at basic requirements for the seating/relaxing area. There must be plenty of light so that you can read but enough shade so that you don't sun burn or overheat. Drop cloths, roman blinds or large louver blinds in timber can also be helpful for cutting out the solar glare as the sunset shines directly into your seating area. Wind protection is important as you don't want your ornaments or furniture to be blown about. Sitting in a wind tunnel on a cool day is not very appealing either. A mixture of fixed seating, day beds and comfortable chairs will make the area welcoming.
If we are going to furnish the space we should also make sure that the rain can't get in and soak the seat cushions. It would be nice to be able to extend the season or even be able to use the space in the winter so perhaps a fire pit, "chimenea" ceramic open fire garden heater, patio heater or a wood stove can be fitted if there is enough space.
A separate but close area for dining means that your guests can leave the table and relax more in the comfortable, informal seating area. You can also introduce lighting and music to the dining area which can be closed off with mozzie netting to stop insects being attracted by the light disturbing your dinner party by turning into something resembling a David Attenborough lecture.