Rustic dining pergola
The house originally had a rough piece of garden and a couple of old metal vine supports. As it was close to the kitchen and has some nice countryside views it was decided to add a patio and rustic dining pergola to make a pleasant sitting out and entertaining area.
The patio was constructed and surfaced with Calcada. Laid in a gentle slope to move rain away from the house and so that it didn't puddle around the siting area. Spring is a great time to construct a pergola in your garden or attached to your house or outbuildings. You can plant climbers so that by summer you will have a mass of flowers cascading over it or the scent of honeysuckle or Jasmin in the evening. Both modern and rustic styles of pergola were considered and in the end a round timber rustic design was chosen at six meters by 3.4 meters (20 square meters) there is plenty of room underneath for a large dining table  and chairs in this rustic dining pergola.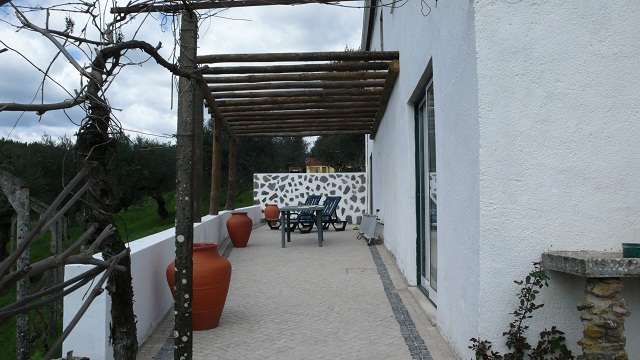 The timber used to make the pergola is worth of note. It is natural grown logs which have been machined to make them rounder and then submerged under pressure and soaked in preservative. They will last for many years. The wood will weather over the next year and lose its green colour and should finish looking light brown/silver. Maintenance free it make a very nice addition to the home.
By positioning the 3 main support pillars on top of the wall we created more space and keep the timber from being permanently soaked as it would be if set into the ground. As the timber is tantalized it isn't attractive to wood worm which is another plus point. Contact Castelo Construction to discuss your pergola ideas
Rustic dining pergola
www.casteloconstruction.com    info@casteloconstruction.com