Gas Boilers Central Heating
Gas Boilers Central Heating       Most houses in Portugal have a gas boiler even if they have other forms of heating in the house.
They run on Propane or Butane gas which comes in large metal bottles either delivered or bought from local shops depending upon the size.
Usually you can only fit a butane bottle on to a butane connector (not always). You boiler and gas cook top will be set up to run on either Propane or Butane gas so make sure you know which it is and use the right type of gas as using the wrong one will result in poor performance and more expensive running.
When you buy or rent a house in Portugal make sure that the gas boiler is inspected for safe running. Not just that it runs but that it is running safely. This photograph shows a gas hot water boiler that runs well provides hot water.
You can see by the black stains on the ceiling that the boiler doesn't have a flue so the fumes are going straight into the room and rest of the house. VERY dangerous.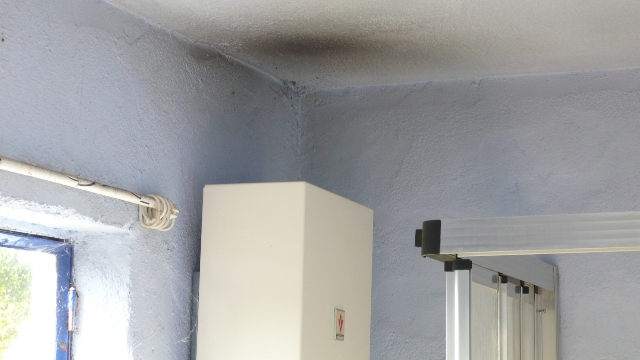 Gas Boilers Central Heating On a recent boiler inspection our heating engineer came across a boiler that had all its safety sensors removed and was leaking onto the floor. On closer inspection the probable reason for removing the sensors was that the boiler had been used to heat water taken straight from a river.
The water was filtered but silt was still getting into the boiler and causing problems inside. By removing the sensors and having the internals blocked with silt this was effectively a bomb waiting to go off.
Always get your gas appliances checked. If you would like help with any heating related questions please contact Casteloconstruction on Skype or info@casteloconstruction.com  www.casteloconstruction.com
OurEnglish speaking engineer will be pleased to help

Gas Boilers Central Heating