Deze foto toont een lokale bouwer die gevaarlijk hoeken snijdt met betrekking tot de veiligheid van zijn werknemers en mensen in de buurt.
Het is het soort dingen dat we hier in Portugal zien, maar voor de niet geïnformeerden ziet het er waarschijnlijk onschuldig genoeg uit.
Laat me vooropstellen dat niet alle bouwers gelijk zijn en onze collega's zowel bekwaam als veel ervaren zijn. Ze zijn ook verzekerd op het juiste niveau.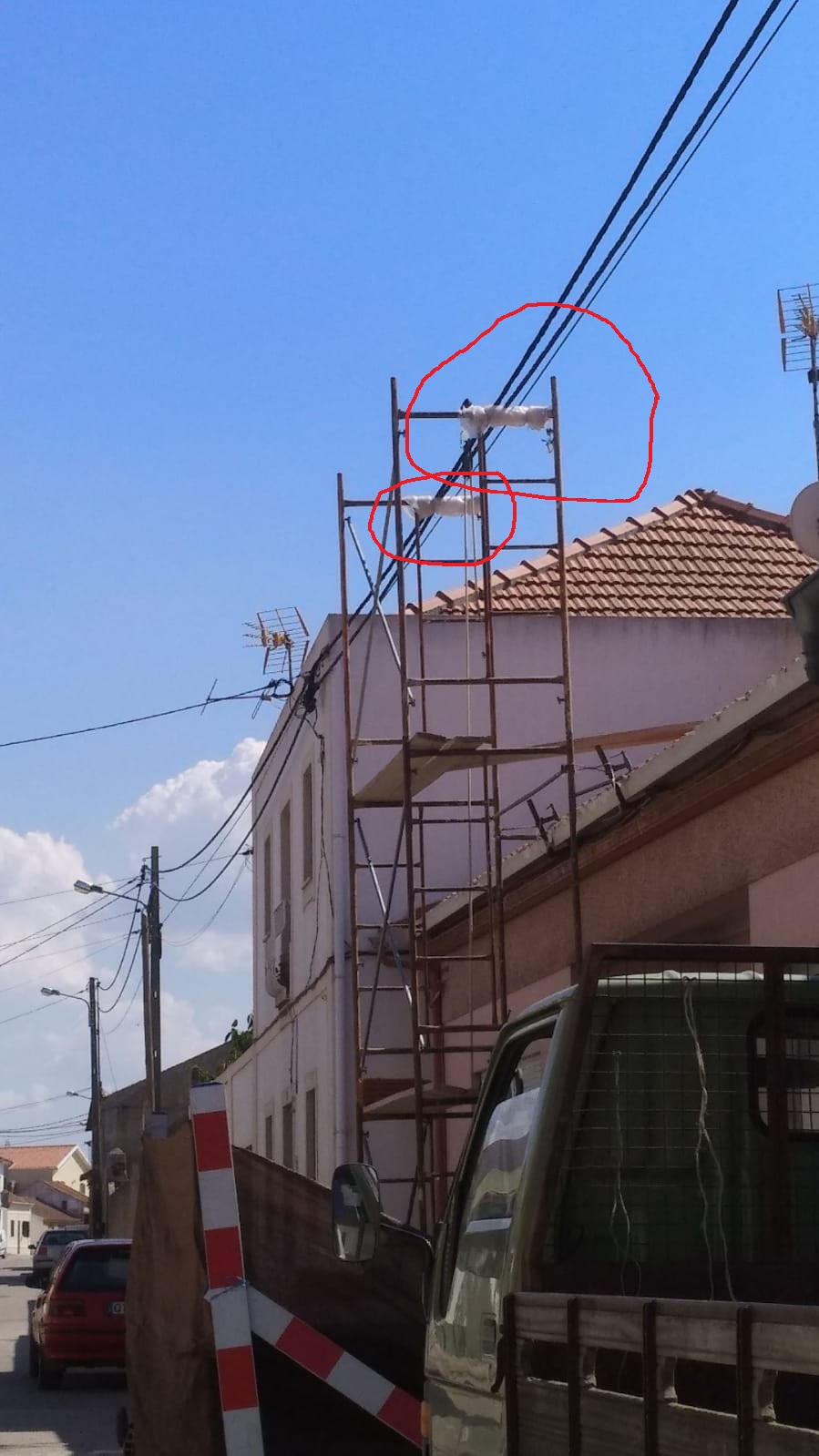 Voor mij beschrijft het perfect het verschil tussen wat je zou verwachten te zien en te ervaren in het Verenigd Koninkrijk, Frankrijk of Nederland en wat er gebeurt in Portugal.
De reden is dat bouwers in Portugal geen officiële training hebben of zelfs veiligheidstrainingen, de overgrote meerderheid is niet verzekerd of jammerlijk verzekerd voor dekking van hun werknemers, uw familie of uw eigendom.
Een typische jongeman als hij niets anders kan vinden, zal uiteindelijk op een bouwplaats werken. Hij zal alle basistaken kopiëren zoals betonneren, metselwerk, misschien zelfs wat timmerwerk.
Als hij niet goed is, wordt hij ontslagen en gaat hij van werk naar werk.
De hoofdoorzaak van het probleem en de reden waarom gebouwen hier slecht zijn gebouwd of slecht zijn gerenoveerd, is dat de jonge bouwer niet gemakkelijk de juiste manier kan leren om dingen te doen als zijn ouderlingen en leidinggevenden a, dom of b zijn, geen echt begrip hebben van wat ze doen of c, opgeleid tot lagere schoolniveau.
Neem bijvoorbeeld een bouwer van middelbare leeftijd die ik ken. We hadden het over het bouwen van grote keermuren en het probleem dat veel van hen hier uiteindelijk uit de verticale hoek bewegen of leunen.
Hij zei: "de reden is dat ze de huilgaten op de verkeerde plek zetten" "Ik heb de mijn altijd dicht bij de top van de muur gezet"
Ik vertelde hem dat we bij Castelo Construction altijd een bouwkundig ingenieur gebruiken om grote steunmuren te ontwerpen zodat ze niet in de toekomst kunnen bewegen. Deze wanden hebben altijd de huilgaten in de buurt van de bodem van de muren. Ik liet hem foto's zien van het werk dat we hadden gedaan en enkele grote muren die werden uitgevoerd door aannemers van de overheid.
Alles met huilgaten in de buurt van de bodem.
Blijkt dat hij niet kon lezen, dus hij was niet in staat om de instructies van de civieltechnisch ingenieur te lezen en gewoon "geïmproviseerd terwijl hij meeging"
Helaas, als je een huis liet bouwen of renoveren door deze bouwer, zou je in de toekomst een schadevergoeding kunnen eisen. Waarvoor wij u het allerbeste bieden.