Gazebo's, zonneschermen en tuinkamers zijn zeer populaire tuinstructuren die we door onze klanten in Portugal in Portugal moeten laten bouwen
Een van de interessante dingen voor onze vakmensen om mee te werken, zijn de verschillende ontwerpen die onze klanten bedenken.
We krijgen vaak schetsen, variërend van een pagina uit een notitieblok tot gescheurde foto's van chique koffietafelbladen.
Onze taak is om eerst het ontwerp met de klant te bespreken, zodat we volledig begrijpen wat ze proberen te bereiken. We bespreken het project vervolgens grondig, zodat ze geen functies missen die later duur kunnen worden geïnstalleerd. We praten over het gebruik dat de structuur zal worden besteed.
Het zou bijvoorbeeld een buiten eetkamer kunnen zijn, dus de watertoevoer en afvoer voor een gootsteen zou een leuke toevoeging zijn, natuurlijk is er verlichting zowel binnen als buiten en zelfs het planten van schaduw en windscherm gebieden. Zoals je je kunt voorstellen is het een vrij lange lijst, maar omdat we veel van deze structuren hebben gebouwd, is het proces voor ons eenvoudig.
Tuinschaduwstructuren kunnen in drie hoofdtypen worden ingedeeld.
1, constructies met post of pilaren en geen waterdicht dak. Dit zijn pergola's waar planten of wijnstokken over groeien of stro, schaduwmembranen of bamboedaken, zodat ze alleen schaduw bieden.
2, Dan zijn er de waterdichte / weerbestendige overdekte structuren die ook op pilaren kunnen zijn of aan drie kanten omgeven kunnen zijn door stevige muren met dakmaterialen, variërend van houten gordelroos, Romeinse dakpannen tot glas.
3, De volledig ommuurde gebouwen met massieve pannendaken kunnen worden gebruikt als eetzalen buiten, woonruimtes in Marokkaanse stijl, Japanse tee-huizen. Ideaal om te zitten en te ontspannen lezen of praten met vrienden. Het doel is om weer, wind en zon buiten te houden
Meer over de drie soorten tuinstructuren
Pergola's worden meestal gebruikt wanneer de klant wil wegblijven van een heersende wind, schaduw heeft in de schaduw maar niet geïnteresseerd is om in koudere weersomstandigheden of in de regen te zitten.
Ze laten een bekwame tuinman een zeer speciale ontspannende schuilplaats maken met het gebruik van zeef- en schaduwplanten. Ze kunnen van een ultramodern ontwerp zijn of zo traditioneel als je wilt, met oude geregenereerde kastanjehouten balken, radslagen, oude olijfpotten en hand stenen troggen als plantenbakken. Er zullen af en toe momenten zijn dat vanwege het blad dat wordt beïnvloed door veranderende seizoenen, de pergola niet genoeg schaduw zal bieden.
Gazebos en alpendres met een waterdicht dak.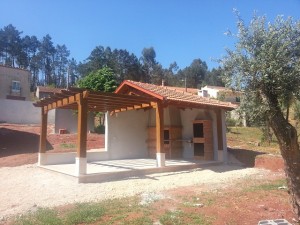 De daken kunnen worden betegeld van geslagen koper, glas, eigenlijk alles wat je maar kunt bedenken, een van mijn favorieten is natuurlijk bamboe onder de tegels, omdat het me aan Bali doet denken. Je kunt linnen doek onder het dak ook hand geven om een Caribisch gevoel te geven.
Muren kunnen ook worden gemaakt van allerlei materialen van cob (een mengsel van aarde en stro) gemaakte stenen, steen, hout of zelfs zeildoek.
Het belangrijkste is om het materiaal te kiezen dat past bij het doel waarvoor je de structuur gaat gebruiken.
Oh en vergeet niet de kleuren die u kunt opnemen in het ontwerp. Niet alleen in de inrichting, maar ook in de structuur. Je kunt alle kleuren en texturen gebruiken die je wilt, bijvoorbeeld ondoorzichtige glazen stenen of flessen die in de muur zijn geplaatst voor een subtiele verlichting
Als je het hele jaar door wilt kijken, dan wil je vuurkorven overwegen, om op winteravonden warm te blijven.
Fonteinen en visvijvers, watervallen, hangmatten voor dagbedden en ingebouwde meubels zoals boekenkasten, koelkasten, wijnkasten, barbecues en houtovens
Welk ontwerp u ook aan Castelo Construction denkt, u kunt hier helpen
Bel Kelvin op 00351 927168247
Of neem contact met hem op via e-mail op kelvin@casteloconstruction.com